These are a few of my favorite things (*sings*)
Ok two cool-looking things out on the e-market I wanted to share with you!
1.  Hungry Girl's 200 Under 200 Recipe Book just came out today!


The book features 200 recipes for dishes under 200 calories.  For someone who counts her calories, this is awesome.  Based on HG's previous book (and on her awesome e-newsletter), I am confident this one will rock as well. I'm buying mine tomorrow and hope to have the author, Lisa, sign it when she visits L.A. on her book tour!  If you would like to buy your own, you can price shop for it online.  Here are the top vendors and their prices:
2.  Vitalicious Muffin and Brownie Assortment 24-pack became available on Amazon.com for $36.60 TODAY!


Pack includes:
Why are Vitalicious products so good? "All Vitalicious products are Kosher certified & all natural with no artificial additives or preservatives." All items are 90-100 calories.  As someone in marketing, I have to say they are geniuses in two of their messaging points: 1.  "The VitaMuffin has less sugar and more nutrients than an apple, plus the advantages of whole grains, and berries – and just as much fiber!" and 2.  "All it takes to walk off the 80-100 Calorie 2oz Vitamuffin or Vitatop is 13-15 minutes."
For a girl who used to eat those double chocolate Costco muffins coming in at 690 calories and 38 grams of fat, this is a good switch!!
Now here's my gripe.  Why $36.60?  When I do the math via the Vitalicious website, they would charge about $25.00 for this assortment.  The only thing is: they don't offer this assortment via their own site! But, they do offer another assortment of the Vita Tops – get 4 boxes of 2 oz. tops (you choose the variety) for $15.45.  Then the brownies are $22.65 for 16 of them.  This way of selling them is annoying.  Plus, to keep the item fresh, you have to pay for UPS shipping of at least $12.89 if you're on the West Coast to guarantee they arrive on time (if buying directly from Vitalicious.  Shipping from Amazon.com is free). They will not arrive frozen, but you should freeze them immediately.
This is too much like Holey Donuts who I have been DYING to try but refuse on principle of hating their ordering process. Unlike Holey Donuts though — Vitalicious is supposedly sold at Vons and Whole Foods (find 'em in the freezer section).  If this is true, I'd say pick out one or two when you're there.  No point paying almost $40 for an assortment that includes BlueBran.  I haven't tried it, but really?  BlueBran? It just sounds less than stellar.
Speaking of Holey Donuts — Place an order before midnight tomorrow, Wednesday 4/15/09, and in the discount code at checkout, type "6glazed" then click recalculate, and you will get a full box of 6 jumbo Ultra Low Fat Glazed Donuts for free.  I think I might just cave…  Just remember, you have to order at least $35 worth of goods and pay for UPS shipping.  It aint' cheap!
But maybe worth it for six of these beauties?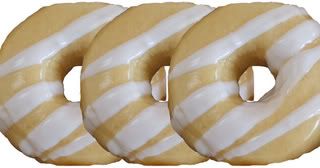 Am I the only one who feels like a goober for getting excited about these things?
p.s. Can you tell I have my budget in mind when I write these blogs?  FeedMeImBroke.com is next?
Tags: Amazon.com, calories, Holey Donuts, Hungry Girl, muffins, Vita Top, Vitalicious