because they were abnormally delicious.  Not like "hi, we're delicious chips" sort of chips, but more like, "eat us, we're made with crack" kind of chips and now that the bag's gone and I can no longer do a drug analysis, I am left simply with an ominous and somewhat forlorn feeling.  Maybe it was not so much these guys…
Drug #1:  Tortilla Chips with An Identity Crisis


From Trader Joe's — $2.29 – "Made with a little corn, a little potato and a little brown rice"
10 chips (12 servings) = 140 calories, 7 g fat, 3 g fiber, 2 g protein
but the eggplant hummus dip I consumed them with?
Drug #2:  Freshly Made Eggplant Hummus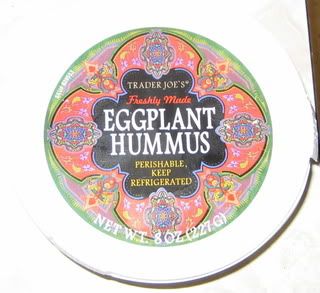 From Trader Joe's — $2.19
For 2 tbsp: 35 calories, 2 g fat, 2 g fiber, 2 g protein
I would HIGHLY recommend these two items.  Seriously, go get them, try them, and tell me you don't want to swim in a pool of chips and hummus dip after one bite! The chips are the perfect texture and have a hint of sweetness that I adore.  There is also something about the eggplant hummus that surpasses my regular hummus hummus and now…I'm not sure I can go back.  I didn't cheat on you regular hummus, I swear!  It's just true what they say: it's when you're not looking that you meet the love of your life…
When I came home tonight from visiting a friend in L.A., I was feeling a little under the weather.  That is until I saw that the lovely, insightful, and crafty recipe creator that is Sophia from Burp & Slurp awarded me this: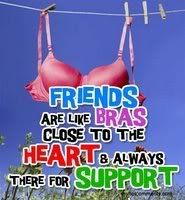 !  Sophia, you rock.  Check out the other bloggers Sophia extended the award to here.
I would like to extend this award to a few of my favorite bloggers (aside from Sophia, of course):
Ok I'm sure that was more bloggers than I was supposed to choose, but, eesh, there are so many amazing bloggers who I have so much fun stalking following — and there's even more whom I did not list!
Tomorrow's post – I went to the oh-so-trendy Urth Cafe in West Hollywood today.  They sell mostly organic items and are well known for their coffee and tea.  Their menu cannot be found online…but your little cranky secret spy over here took some pictures of it! BUAHAHAH!  I shall post the lunch/dinner menu along with my review, tomorrow!
Later this week — I will finally post about that nebulous little thing called fructose! Also, a post on my take on the "Best Life" product emblem.
Night night!
Tags: Best Life, calories, eggplant hummus, tortilla chips with an identity crisis, trader joes, Urth Cafe