This Ain't No Freshman 15, This is the Final 10 Challenge, baby! I am joining forces with Jen from Prior Fat Girl and we're both going to kick this plateau in the rear!  Both Jen and I have lost a bunch of weight — a cumulative 250 pounds to be exact — and we're ready to get back on track to lose another 10 pounds by August 1st, 2009.  We will be checking in with each other every Monday and encouraging each other every step of the way.
If you didn't know from my first blog post ever, I initially lost 150 pounds alongside my twin brother.  Since he's been in maintenance mode for the past few years, it's been harder for me to continue progress towards my health goals.  Bad habits creep back up, excuses start being made and it's a mess of goo I'm tired of being stuck in.  The truth is, I find it so much easier and so much more fun to be on a health journey with a partner by my side!  So, Jen — you're my virtual twin sister and we're going to show those stubborn pounds whose boss!
What's the plan and what are the stakes?  I'll tell ya!
The Plan
I plan on losing the weight the same way I have before (exercise, eat well, leave calorie deficit of no more than 500 calories/day) only there will be 5 refinements:
More Diligence. I am a plan-maker by nature. I carry around a notebook everywhere and love school partly for the simple reason that I like challenges and clear-cut ways to achieve my goals.  While academia has been easier to conquer, weight loss has been a tricky maze. I need to apply as much diligence to my health as I do to my school work!
No Excuses. Exercise 6 days/week – No BUTTS about it! I will be making endless dates with friends at the gym. I will be mixing it up and striving to have a good time.  If I'm not having fun, I'll be less likely to stick it through. I hope to try new and fun ways to burn a few calories! (yes, please please send your ideas my way!)

Intuitive Eating. Will keep calories in mind, but will focus more on eating when I'm hungry and eating sufficiently. I've learned before that I can't just allow myself a rigid amount of calories every day because if my exercise increases, so should my caloric intake.  I lost weight before eating 2300 calories/day, but that was because I was running more than 6 miles/day.  It's got to be give and take and based more on actual hunger and nutrition than any static number.

Close to NO Processed Foods. Clean foods are better, end of story.
Holistic Health. Health is not just about the pounds or the body, it's a holistic approach to life in which your mind, body, intellect, spirit – everything – are in harmony or striving to be.  I will never lose site of what makes me happy and will continue to reach for every damn star in the sky that I yearn for. In every aspect of my life.
Where Am I Now?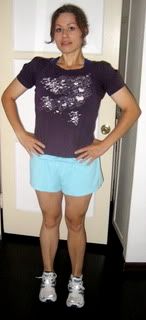 Taken last night before heading to the gym. Me at 138.0 pounds. By the way, do you know how embarrassing it is to take a "before" shot (& to reveal my pastiness?!)? I'm just sayin'…
To add to public accountability, *sigh*:


That's the scale this morning.  So, the goal weight by 8/1/09 is 128 pounds — a nice healthy weight for my height and composition.
The Stakes

Jen and I have been fortunate to get a motivational basket of goodies from some of our favorite brands & people contingent on us reaching our goal.  If we reach our goal by 8/1/09, Jen and I will get the following :
Foodie Necklace Charm from Mara at What's For Dinner (You have to check these out — they are *so* cute!)

Assortment of Popchips (yum, thanks!)

Nu-Train Portion Control mix from MixMyGranola (one quarter cup of the mix has 150 calories – so it's the perfect snack for my purpose)

An assortment of handmade greeting cards from Jen's sister Heidi (how sweet!)
Thanks to our sponsors/supporters!!!
So…what happens if neither Jen nor I reach our goal? Well, we will skulk and cry and abandon the blog world in search of nirvana.  But before we do that, we will donate $50.00 to a charity that you, our readers, get to vote on!
Also, Carla, one time trainer and lovely life coach at www.MizFitOnline.com, has offered her sage fitness advice to us while we complete this challenge! We will be checking in with MizFit herself every other Thursday as she answers some of our most pressing questions!

Carla, you rock!
If any of you guys want to hitch a ride with us on this journey, we'd love to have you on our mini-bandwagon headed to the pinnacle of health.  Let us know what your goal is and how you plan to reward yourself (yes, health is its own reward, but a little motivational prize to yourself never hurt, right?!) — we'd love to cheer you on! If you couldn't care less, are tired of band wagons or in need of Vitameatavegamin, I hope the picture of my white as marshmallow legs at least amused you
Jen, cheers to our health!  I'm so excited to be on this road with you! Make sure you stop by Jen's blog and give her a shout!

Tags: mix my granola, mizfit, mizfitonline, pop chips, priorfatgirl.com, weight loss, weight loss challenge, whatsfordinner, you bars