It's been two weeks of the This Ain't No Freshman 15, This is the Final 10 Challenge and that means it's WEIGH IN time!  >:[ Before you read my stats below, make sure to check out Jen, Prior Fat Girl's, blog to see how she's coming along!
Alright, I bare all:
Starting Weight: 138 lbs.
Weight Monday, June 8: 135.4 lbs.
Weight, today, Monday, June 15th: 134.6 lbs.

Loss since last week: 0.8 lbs.

Total loss: 3.4o lbs.

Left to go: 6.60 lbs. by 8/1/09

Not gonna lie..I am a bit disappointed with the 0.8 lbs. weight loss, but ya know what?  I'm not surprised.  Let this be a lesson to you — get your sleep!  I have not slept much in the past week and while I have done very well with the eating and exercising, I'm sure my poor little body is holding onto every morsel of food to sustain itself on so little rest time.  Oy!
Here's a break down of calories* and exercise done each day this past week thanks to my trusty, GIANT, calendar:
Monday – 1500 calories, 60 min. Turbo Kick Boxing (TKB), 20 min. run at 6 mph & 20 minute walk
Tuesday – 1500 calories, Ran 6 miles, 45 min. strength training with boyfriend
Wednesday – 1600 calories, 40 min. walk, 4.5 mile run
Thursday – 1800 calories, 30 min. run
Friday – 1500 calories, 60 min. TKB & 20 minute run at 6.5 mph
Saturday – 1500 calories, 40 min. run at 6.5-7 mph, 10 min. elliptical at level 10 resistance
Sunday – 1700 calories, Ran 6.09 miles
*Calories rounded up just a bit
What will I do differently this week? More strength training, less running & more sleep!
I want to give a shout out to a few non-blogging friends who are doing their own challenges:  Jessica has lost 4 pounds as of last week (so might be more by this post!), C-Bear has lost 7.5 and DG has lost 4.  I hate to make this an after school special, but I am so proud of you guys!
You may recall that a while ago here I wrote that I wanted to be able to do a pull up (I really meant "chin up").  Well, after my recent strength training sessions I am now able to! yay! I know for a lot of you out there being able to do one chin up is laughable, but for me, it's a victory!
This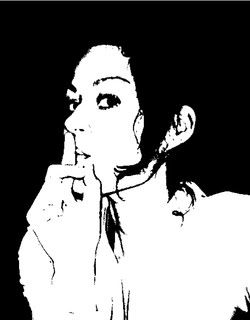 is not me picking my nose, thank you very much, it's me asking you to contain your excitement b/c MizFit will be joining us again this Thursday for another question and answer session! Suhweet!
So tell me, how are you guys doing on your own personal challenges?! If you fell off the wagon, have no fear, jump right back on! If you're losing motivation, remember there's no time like the present to be at your best health!
Have a wonderful Monday!
- The Cranky One
Tags: calories, exercise, mizfit, priorfatgirl.com, running, weight loss