Mornin'!
Ever complete a taxing task and think, "boy, I deserve a treat for that!" and then head to the nearest Cold Stone's or Dunkin' Donuts?  Or ever reward your children with a dessert for eating their vegetables or doing their homework?  Some of us do tend to use foods as a reward, no?
I guess the problem lies primarily in 2 things:  1.  the psychology of reward — we may want to eat sweets to reward ourselves for jobs well done even when we are not hungry, etc. (which is why even rewarding with "good" foods may not be a good idea since it teaches us to eat not out of hunger, but as a pat on the back) and we'll learn to prefer reward foods over other foods; and 2. the reward foods themselves — these foods are usually highly addictive, highly unhealthy foods, which creates a whole other set of problems.
There is a lot to this issue, but I don't want to bore you!  So, I'll quickly point out some food for thought (hey, maybe we should start rewarding our kids with "food for thought"?! It's calorie-free brain-power!):  There seems to be a dilemma in the psychology of eating that Deborah Lupton calls the asceticism/consumption dialectic in her book Food, the Body and the Self. That "dialectic" is fancy talk for the socially-ingrained desire to practice food restriction with foods we have learned to attach moral values to (i.e. some one restricting her intake of chocolate because it's "bad") versus our desire to give in to impulse, to live and enjoy foods — even "bad" ones — just because, and to reward ourselves.
What do you think?  There's so much more to be said, but let's get to the interesting part. I went through memory lane and thought of the top foods used to reward me when I was a kid, or that I used to reward myself earlier in life.
Starbucks' Venti Mocha Frappuccino with Whip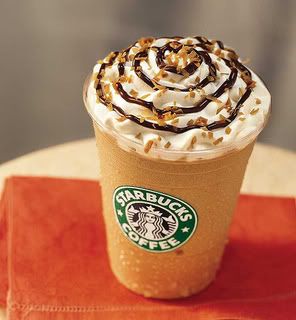 BohemianRaspberry on Flickr
500 calories, 17 g fat, 1 g fiber, 9 g protein. See full nutritional info. here.
Thrifty's (now Rite Aid) Ice Cream Scoop

WallaceChane on Flickr
About 188 calories, 14 g fat, 0 g fiber, 3 g protein for the ice cream + 17 calories, 0.3 g fat, 0.1 g fiber, 0.3 g protein for the cone =205 calories, 14.3 g fat, 0.1 g fiber, 3.3 g protein.

Baskin Robbins' Chocolate Blast


1290 calories, 58 g fat, 1 g fiber, 28 g protein. See here. (Info. based on "large chocolate shake with chocolate ice cream" since "Chocolate Blasts" no longer exist)
Jamba Juice's Sourdough Parmesan Pretzel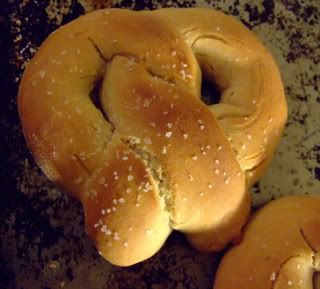 Smalltownholly on Flickr
410 calories, 10 g fat, 3 g fiber, 14 g protein. See here.
+
Jama Juice's Original-sized Razzmattazz


455 calories, 2 g fat, 4 g fiber , 3.2 g protein. See here.
=   865 calories, 12 g fat, 7 g fiber, 17.2 g protein
Wow.  That's all I'm sayin'…
Were you bribed or rewarded with food as a child?  If so, what types?  Do you use food as a reward either for your children or for yourself? Do you think of foods as "good" and "bad"? Can I trick my future children to think cleaning their rooms is a reward?
I'll admit –  I don't really have "reward" foods anymore.  I can't tell whether it's because I've de-conditioned myself or if I just don't crave them.  Either way, I think it's a good thing!
**
News
Food stamps to be accepted at Atlanta Farmers' Market! Sweet! Food Inc. will be proud.  See article here.
What to eat before and after exercise.  A p'n'b sandwich? I do! See article here.

<3,
The Cranky One

Tags: Add new tag, asceticism, food as reward, Food Inc., food psychology, nutritional information