Hey guys!  I hope you had a wonderful Thanksgiving!  How do you think my two dishes came out?


Miso Soup with Sweet Potato Dumplings — I loved this dish!  So healthy, easy and delicious!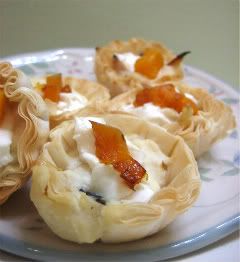 My own take on the Simple Butternut Squash Tart — Because I did these in phyllo shells and not a large tart form, the goat cheese was way too overpowering.  When I swapped the goat cheese slice with a sliver of Laughing Cow cheese, they were perfection!  These would be great appetizer options for any gatherings you host or attend.
Lessons learned when shopping for the ingredients for these dishes and when making them
Won ton wrappers and miso paste are hard items to find.  Don't screw around — just go straight to Whole Foods.
A lot of pastry dough has hydrogenated oils and high fructose corn syrup (Pillsbury brand, for instance – go figure, right?).  Also, I never was able to find a whole wheat version.  Heidi from 101 Cookbooks recommends the Dufour brand though I did not find it at either Whole Foods or Pavilions.  I ended up going with these mini phyllo shells since they had an ingredient list I was happy with (and they're also really cute!).
Miso paste is more expensive than I thought — $8! (hey, $8 is a lot when you're a broke college student!)
There are a wide variety of misos.  I had to guess the right one since the recipe calls for "white miso" and that was not one of the miso designations on the varieties I encountered.  Apparently miso can be classified by taste or ingredient. Whole Foods did not appear to have a white color miso paste (now I know it's called Shiromiso).  I ended up choosing the genmai (brown rice) miso — it has a nice rust color.  Here's the different varieties of miso, in case you're interested.
Won ton wrappers are awesome.  I got the Nasoya brand.  How have I not used these before?  I am going to make the boyf some leftover turkey and mashed potato won tons tonight and make spinach and potato won tons for myself!  I am also envisioning all sorts of dessert won tons in my future.
I should always start cooking well before the "eating time" given to family members.  The meal was to start at 3 p.m. and I was barely peeling the sweet potatoes at that point.  Thankfully no one was waiting on my vegetarian dishes — the turkey, mashed potatoes and stuffing sufficed just fine.
Holiday gatherings really are a test of those demons I referred to yesterday.  In hindsight, I may have trivialized how family functions can be more of a dysfunction for someone who is recovering from disordered behaviors.  Did you catch this NYT article on some of the quandaries faced when eating with family on holidays?  I can relate to a lot of the experiences captured in the piece.  I'll have to keep this in mind for next time!  Another thing I'm trying to keep in mind?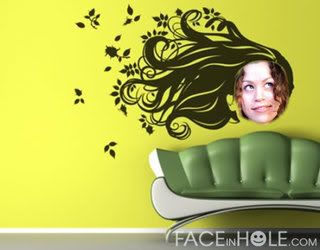 I'm a work of art in progress…
I think embracing how far I've come and yet still acknowledging the path before me is much healthier than either denying my need to evolve or dwelling on any perceived failures.  Speaking of healthy attitudes, I wish I would have passed this along to you on Wednesday — hopefully these sentiments will help you more than the guilt-based holiday eating guides out there.
In terms of my eating behavior yesterday –  I ate until I was full and then when I felt less full, I had some pumpkin cheesecake and later a slice of pumpkin pie.  No dwelling shall ensue.  No complaining.  No guilt.  Ya know why?  When I woke up this morning and checked myself out in the mirror I was still me.  I think we forget these things and think that after one day of convivial eating we're going to wake up a different person or a person with an additional ass tacked on to her rear.  Come on now.
How was your Thanksgiving?  What was your favorite dish?  Do you ever feel the "dys" making its way in your family -functions?
p.s. Complete nutritional break-down on the dishes prepared above to be amended to this post later today.  I've got to get some studying done to appease the cranky one's foreboding thoughts of paper failure!
<3, The Cranky One
Tags: appetizers, butternut squash, Nasoya, pastry dough, phyllo dough, Recipes, soup, thanksgiving meal options, vegetarian cooking, vegetarian meals, vegetarian recipes, won tons