Hey guys!
How are you?!  I had a wonderful Christmas celebration at my brother and sister-in-law's house. It's always so nice to eat meals together in a relaxed setting. As we've all either began our own families or gotten increasingly busy, it's become challenging to find time to just enjoy one another's company over a meal — so it was very pleasant.
The feast I made came out spectacularly!  Every dish will now join my "rotation" of tried-and-true recipes. Here's  a picture of the meal:
Thai stir-fried tofu (vegan) — recipe to come
Citrus salad (vegan) — recipe to come
Fried brown rice (vegan) — recipe to come (I didn't have time to make The Kind Diet's rice pilaf with caramelized onions, so I improvised!)
Yesterday morning I was up at the crack of dawn baking vegan treats for my boyfriend's parents. They're not vegan, but I thought they'd appreciate the healthier version. I made them maple pumpkin spice bread and the chocolate chip cookies I recently can't get enough of — both recipes from Vegetarian Times. The chocolate chip cookies came out as delicious as ever. The maple pumpkin spice bread was a new recipe that I vegan-ized. It came out so surprisingly moist and dense that I put on some fishnets, broke out a microphone and deemed myself a (pumpkin) Spice Girl: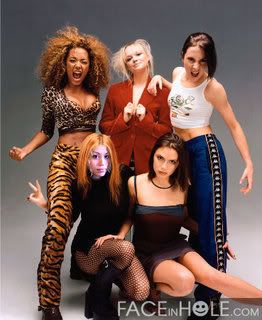 ok ok…maybe I shouldn't go that far, but the bread really was insanely delicious. I'm allowed to try the goods I'm going to give to others, right? I mean it only sounds like chef ethics to taste-test your creations!
Proof of aesthetic beauty in the bread:


Ingredients
1 cup whole-wheat flour
1 cup all-purpose flour
1 Tbs. ground cinnamon
2 tsp. ground ginger
1 1/2 tsp. baking powder
1/2 tsp. baking soda
1/2 tsp. ground nutmeg
1/2 tsp. ground allspice
1 cup pure maple syrup
1/2 cup grape seed or canola oil
2 large eggs — *I used Ener-G egg replacer*
1 cup pumpkin purée
1 tsp. vanilla extract
1/2 cup chopped hazelnuts
Directions
Preheat oven to 350°F. Coat 9- x 5-inch loaf pan with cooking spray. Whisk together flours, cinnamon, ginger, baking powder, baking soda, nutmeg, and allspice in large bowl.
Whisk together maple syrup and oil in separate bowl. Whisk in eggs, then pumpkin and vanilla. Stir flour mixture into pumpkin mixture with spatula;add hazelnuts. Pour into prepared loaf pan. Bake 40 to 50 minutes, or until toothpick inserted in center of loaf comes out clean. Cool on rack 5 minutes, then unmold, and cool on wire rack; or transfer to serving platter, and serve warm.
Nutritional Information per slice (12 total): 273 calories, 13g fat, 3g fiber, 4g protein
In other news, Santa and Co. totally spoiled me this Christmas. And by "Santa and Co.," I mean my boyfriend, of course. Here I am modeling the new Abercrombie jacket he got for me: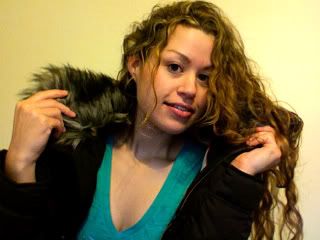 It's faux fur — PETA don't come after me!
So in terms of eating vegan on holidays — well, I was fine. Until I saw the See's Candy that is. If you don't recall (see here and here), I freakin' love See's candy. The problem? They're not vegan. I was ready to cry and throw a fit and ask myself why oh why I come up with these strange ass eating adventures — and then I paused, took a bite of some of the maple pumpkin spice bread I had brought along, and quickly got over it. It's not about living without something — it's about choices. And now, I have the adventure before me of finding and trying a vegan chocolate-covered toffee recipe! Got any? Anyone?
If you celebrated it, how was your Christmas? What's the best gift you ever received?
<3,
The Cranky One
Tags: ener-g egg replacer, holiday foods, Recipes, vegan dessert, vegan recipes