Yo yo yo my pretty peoplez! (Ever felt you needed a vacation from yourself? Appropriating a new accent or blogger "voice" really helps! Even if you do come off a tad…um…foolish?
So anyway, a friend from high school has decided that she's going to eat vegan for lent (even though she's not Catholic lol), and has asked my advice on how to make the switch (side note to my readers: dudes, I'm totally flattered! This chick has been vegetarian for 13 years and I'm like new to this whole vegan thing, but confidence is key, right?). So, yea, totally, I'm game to share my tips on making the switch.
First things first! Anytime you're making a big lifestyle switch (even if just for lent!), figure out what kinda "changer" are you. Are you one of those baby steps, make a flow-chart, break out the Power Point and ladder-step-approach kinda people? Or are you a dive-right-in, give-it-to-me-straight, I-don't-need-your-baby-steps kinda people? In between? It helps to know ahead of time to ease the switch. If you think of going vegan and gasp, "oh, but think of all of the things I can't eat!" or one of those, "hmm, what will I eat?" kinda types matters, too. Generally, if you worry about not being able to eat your favorite foods and prefer baby steps, then you will probably benefit from using a lot of vegan substitutes and recipes for your favorite omni foods until you get more adjusted. If you're not particularly sad about giving up  meat, dairy or cheese, then it'll certainly be easier for you to dive right into the wondrous ocean of vegan foods. Either way, don't expect instant gratification (as I had to remind myself in my post here about some reality t.v. chick who expected spiritual enlightenment after 3 hours of not smoking).
In honor of my friend who's making the switch for lent, I'm going to dedicate my next few (maybe more) posts to debunking myths about vegan eating, profiling some cool vegan bloggers (or hosting guest posts from them), providing the best vegan resources out there for newbie vegans, sharing the best vegan recipes I've tried and pretty much learning more as I go along, and sharing with all of you. This is gonna be fun! Knowing some of my friend's fave foods and concerns, I will definitely be posting on the following things: the best cheese substitutes (are there any? harhar), the best vegan desserts (and ice cream substitutes) and getting enough protein (inc. which protein bars and powders are vegan) aka The Protein Myth.
Since I always think it's better to refer someone to a product after you've tried it yourself, I immediately felt inclined to try a cream-cheese substitute knowing that my friend likes her bagels and cream cheese. I could have saved this for a separate post, but I am too excited to share the results!
So, I went to Whole Paycheck Foods to see what I could find in a cream cheese substitute. I ended up buying some Tofutti Non-Hydrogenated Plain "Better Than Cream Cheese" and some Alvarado St. Sprouted Wheat, Onion & Poppyseed Bagels (all in the name of Blog Research, which I think should also be an extra line on our tax forms under business expenses, no?
I came home, heated up the bagel and lathered some of this "cream cheese" on.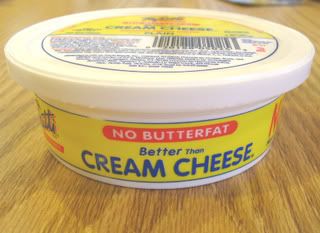 [photo cred]

I sighed as I shoved this mess into my cranky mouth, thinking about how "Blog Research" is a tough job, but some one's gotta do it…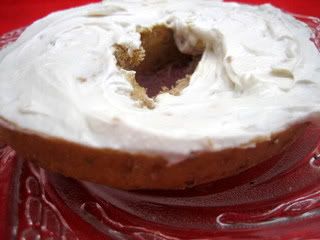 hmmm…I started to feel less cranky. The texture and taste were not like cream cheese, they WERE CREAM CHEESE! The skies started to get brighter and part as an angel floated down singing some beautiful verses about Tofutti cream cheese (something about how I had been "toFOOLed"). I realized I had died and gone to cream cheese substitute heaven where they, duh, hand out Tofutti cream cheese. Philadelphia Cream Cheese — you don't have smack on Tofutti!
Friends, please excuse me while I go lather Tofutti fake cream cheese onto everything in my pantry. Again, this is "research," people. Research.
Hey you — yea, you! Who are your favorite vegan foodie bloggers? What are your fave vegan foods, products and/or recipes? Please share! (Oh and, uh, if you give up stuff for Lent, whatcha gonna give up this year?)
<3,
The Cranky One
Tags: alvarado st. bakery, bagels, tofutti, vegan, vegan foods