While McDonald's has made significant strides towards providing healthier options and sourcing better food for its menu items, I wouldn't call it a purveyor of health foods. Would you?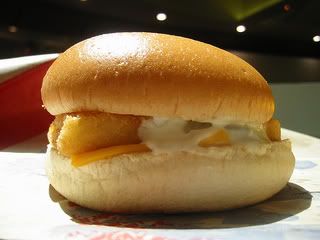 Eat this, lose weight? [Photo cred]
According to an article called "Anger over Weight Watchers' endorsement of McDonald's" in UK's The Guardian two weeks ago (read here), Weight Watchers will now be endorsing select McDonald's products in New Zealand. What that means is McDonald's will get to bank off the WW brand and capitalize on dieting consumers by posting the endorsed items on a "diet friendly" menu board with the WW points values indicated, I presume, and including the WW logo on the select products' wrapping. Outside the store, WW will promote McDonald's items to their members (presumably in group meetings & weigh-ins). On one hand I want to scream; the other hand is currently occupied eating a McGriddle. I kid, I kid.
These are the items that would be endorsed by Weight Watchers:
Filet-O-Fish — 380 calories, 18g fat (3.5g sat.), 640 mg sodium, 2g fiber, 15g protein
Chicken McNuggets (I assume the 6-piece; could not confirm) — 280 calories, 17g fat (3g sat.), 600mg sodium, 0g fiber, 14g protein
Sweet Chili Seared Chicken Wrap – 370 calories, 11g fat (3.3g sat.), 656mg sodium, 6.3g fiber, 24.4g protein*
*Nutritional info. taken from McDonald's Australia nutritional info. PDF(here); all other info. from McDonald's U.S. nutritional info. PDF here.
One thing that is interesting to note is that the calories differ significantly from the US version of the Filet O' Fish to the AU Filet O' Fish. The AU nutritional PDF lists the fish sandwich at 303 calories — almost 80 less than the U.S.'s. The chicken nuggets are about the same and the Sweet Chili Chicken Wrap seems to be a regional item unavailable in the U.S.
Here are three positions reflected in the article:
Con: "But nutritionists and obesity experts said the menu items were a marketing ploy to lure customers into the restaurant. 'It's all about sales,' said Jane Martin, senior adviser of Australia's Obesity Policy Coalition. 'It implies this food is healthy … when often it is high in fat and salt. Chicken McNuggets are Chicken McNuggets whether it's got Weight Watchers on it or not.'
Hopeful but Cautious: "Sian Porter, a dietician at the British Dietetic Association, said: 'This sort of initiative should be applauded, but the danger is that someone will go in, choose one of the healthier options and then think: 'Ooh good. Now I'll have an ice cream,' which is not the right message.'"
Pro: A Weight Watchers spokesperson, Chris Stirk, director of business in Australia and New Zealand, said "the partnership between the companies reflected 'part of our philosophy that you can enjoy life … while still achieving your weight loss goals.'"
So this is what I think, in a nut shell — The same people who don't read or understand nutritional info., even when it's provided on menu boards, in pamphlets on the table and online, will still be the ones who go for the crap at McDonalds' whether or not it's WW-endorsed. The same people who order a premium salad at McDonald's — which has got 430 calories and 20g of fat — thinking it's a healthy choice and then ordering a milkshake to balance out the "healthy" in their diet, will be the same ones who order a Filet O' Fish and then down a mountain of ice cream for good measure.
The people I see this working for are people who are working towards a weight loss goal, mindfully, and still want to enjoy fast food until they can wean themselves off of it. I don't see this as having a "conversion" effect or as having a detrimental effect. While I don't eat fast food myself, and wouldn't recommend it in and of itself, I also wouldn't withhold applause to someone trying to lose weight and eating a few chicken mcnuggets along the way. If you had told me 7 years ago that in order to lose weight I could never eat the things I loved again, I would have probably shrugged with defeat and asked for a take-out menu. There's a lot to be said for condoning methods that encourage "what I can have" instead of the "what I can't have" mentality. I do feel it ethical to mention, however, that while I do condone eating fast food on occasion as part of a healthy weight-loss plan, I also accept that there's been research proving fast-food to be addictive, to some degree. In which case, for some, weaning off of it may be easier said than done.
I don't think that Weight Watchers is sending out the message that McDonald's food is healthy, though I can imagine many people will interpret it that way. If you know about the WW program, you know that part of its message/selling point is that you can eat the foods you want and still lose weight. That sort of message implies that the selling point is losing weight not gaining health. While those are very related — that's not my point. The point is — you can eat Chicken McNuggets and Filet O' Fish and lose weight. In fact, you can even go on the Taco Bell or Subway Diet and lose weight. Once in a while, eating these foods is fine. If someone were to take it to the extreme and literally do a fast-food diet — that's when the lure to eat crap and lose weight without regard to health can turn very ugly.
Actually, now that I've mentioned Subway, let's just take a little peak. You could just as well go to Subway and get a 6″ Meatball Marinara with 580 calories, 23g fat (9g sat.), 1530mg sodium, 9g fiber, 24g protein (see here) as you could opt for one of their "6 Under 6 Grams of Fat" subs.
I always take the perspective of my old self when it comes to these issues. I didn't give a crap about saturated fat and sodium when I first started losing weight. Now, I care a lot. About everything. But it was a gradual process of enlightenment, revisions, and education. Let's face it — a lot of us are truly detached from what we're really putting in our bodies and we focus more on its effects. The more info. we put out there, the more choices we make available that will give people the steps (albeit baby steps – and so what?) to their goals, the better.
There's so much more that goes into this issue, including food politics and why places like McDonald's still focus more on burgers and fries than salads (and why even on their WW menu, there is no salad to be found!) — which is an issue of government subsidies — but I want to hear your opinions.
What do you think about Weight Watchers endorsing select McDonald's products in New Zealand? Is this setting a bad precedent? Setting a good example of giving healthy options? Neither? Speak out and loud!
<3.
The Cranky One
Tags: fast food, fast food addiction, mcdonalds