Hey guys,
I'm keeping this post short as I'm off to "Paper Land" — it's like Disneyland except you swap-out rides with research, excited kids for crazed grad students, churros for coffee and screams of joy for cries of terror.
So here's some news and food for thought:
News: If you haven't seen Food Inc. yet, it will be airing today at 9 p.m. on PBS. You can check your local listings here.
Food For Thought: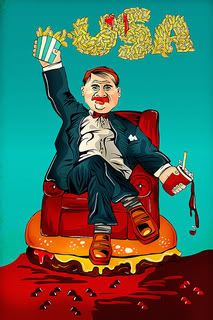 [photo cred]
Check out the article titled, "Risks for Youths Who Eat What They Watch" in the NY Times this past Monday here. The article discusses food advertisements to children via TV and the shortcomings of the policies currently regulating them. Key passage:
"Lest you doubt these brand placements influence young eating habits, the appearance of Reese's Pieces in the movie 'E.T. the Extra-Terrestrial' resulted in a sharp increase in sales in the three months after the movie's release in 1982."
I think this is an interesting article, but I'm wonderin'…isn't the Internet the new frontier we've gotta be analyzing? I mean kids these days (I sound ancient) are all up on the net, 24/7, no? Every time we watch an episode of our fave TV shows on Hulu, Youtube or directly from NBC, etc., we're bombarded with advertisements. The Internet seems harder, if not impossible, to regulate. Thoughts?
In obvious news, did you know the more you eat a particular "diet food" (a food you've deemed as such), the less you'll like it over time? Wow, and the award to stating the obvious goes to this study.
And in fun stuff (as if this stuff wasn't fun already!
, check out this SNL sketch featuring Tina Fey. Hungry Girl linked to it on Facebook and I've now become addicted to it's chocolaty possibility…
<3,
The Cranky One
Tags: Food Inc., TV advertisements