Hey guys!
I have an interesting assignment for you. Grab your significant other, best pal, or some random hottie crossing your path and pull him or her aside. Tell 'em, seductively, that you need to discuss the "dirty dozen" with them. I guarantee they'll be so intrigued that by the time they realize you're talkin' organic produce, they'll be too engaged to care. Just a little cranky tip for you ;P So, onwards…
The Environmental Working Group has published a new list of the "Dirty Dozen" fruits and vegetables with the highest concentration of pesticide residue (see here for a handy PDF).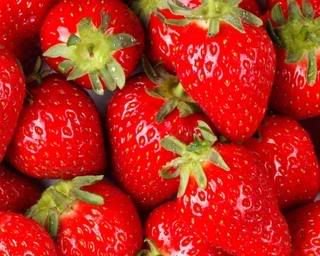 There are significant changes from their last published list! The EWG recommends eating a plentiful variety of fruits and veggies and buying the following 12 listed items organic as much as your budget allows.
The Dirty Dozen (2010; listed in highest concentration to lowest)
Celery (up from #4)
Peaches (down from #1)
Strawberries (up from #6)
Apples (down from #2)
Blueberries (new to the list)
Nectarines
Bell peppers
Spinach (new to the list)
Kale
Cherries
Potatoes
Grapes (Imported)
The Daily Green adds:
Leafy Greens
Carrots
Pears
Tomatoes
The Clean 15 (Lowest in Pesticides; #1 = Least contamination)
Onions
Avocados
Sweet corn
Pineapple
Mangos
Sweet peas
Asparagus
Kiwi
Cabbage
Eggplant
Cantaloupe
Watermelon
Grapefruit
Sweet potato
Honeydew melon
Per the EWG, consumers can reduce their pesticide exposure by 80% if they eat the cleanest produce (not sure if that means literally the cleanest –onions– or from one of the 15 cleanest).
The Green Daily notes the following great point: "The dirty dozen list only reflects measurable pesticide residues on the parts of the foods normally consumed (i.e. after being washed and peeled)." Also, "this dirty dozen list provides no information about antibiotics or hormones, or about the impact of producing food on the surrounding environment." For these reasons, the Green Daily also recommends that if you eat meat, you eat organic meat for the following reasons:
"For overall environmental impact, meat is the king of foods, even if it's not likely to be laced with pesticide residue… though a recent USDA Inspector General report [see here] found that the government is failing to even test meat for the harmful chemicals the law requires. While beef muscle is typically clean, beef fat is a different story altogether, with 10 different pesticides having been identified. Pork meat can be contaminated, but pork fat is more contaminated, with as many as 8 pesticides. For chicken, the thigh is most contaminated."
I'll just point out eating organic, grass-fed meat seems to be a better option than corn-fed non-organic meat; however, organic does not mean humane. Also, based on more and more books and articles I've read, and conversations I've had, eating less meat, organic or not — and animals rights aside — seems to be the most "eco-conscious" decision since meat is an inefficient "crop" that takes up way more natural resources than plants and most grains would.
I'll also note that if you buy produce locally and in-season, it typically means less food miles which typically means your precious fruits and veggies haven't been frozen for survival over long-trips. Also, if you can buy from Farmer's Markets you can create a relationship with the farmer directly and ask him or her how they raise their crops. Just a thought, though, honestly, I don't shop at farmers' markets myself — but I do buy the dirty dozen organic as much as my measly college-budget permits.
Related Posts
<3,
The Cranky One
Tags: dirty dozen, Environmental Working Group, farmers market, organic foods