I'm torn.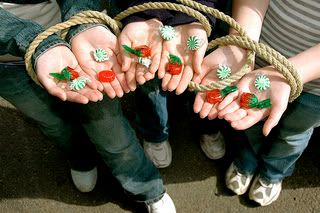 [photo cred]
The Bondage of Candydom.
I've read a few blogs recently that seemed to center on a question I often ask myself and feel flustered trying to answer: Where is the middle-ground between apathy and self-righteousness? Especially with regards to a stranger who seems to be involved in unhealthy behaviors?
On Fit to the Finish's blog post (here), the scene is set: an overweight mother unloads groceries with her overweight daughter; they both stop midway to enjoy soda and a candy bar, the mother advising her daughter, "You can't go wrong with a soda and a candy bar on a hot day." Blogger Diane who watched the scene, asked her readers if it's anyone's place to say anything.
Big Fat Deal (here) recently brought up a woman who received an anonymous Post-It note that read "Please do not take this the wrong way, I am just concerned for your health. Have you considered Weight Watchers?"
Comments on both blog posts unanimously say: butt out. Comments on the mother-daughter story agree that saying nothing is the best choice. Commenters on the Post-It note story focused on the harm such a move could make to the recipient.
Look, I feel ya. That whole Post-It note thing is such a passive-aggressive cop-out. And I abhor whenever anyone precedes a statement or question with "don't take this the wrong way" or "no offense" — both which indicate the speaker is already well aware of his/her forthcoming douchebaggery, so why bother even speak? Boggles my mind. In both cases, the assumption is that overweight people must be involved in unhealthy eating patterns that would require intervention. Is that so far-fetched?
Here's where I start to feel like an enabling wuss — if we can agree, and many of us do, that unhealthy processed foods are addictive (see here); that many people show (neurologically) the same signs of addiction to fast food that alcoholics do with alcohol; when are we simply acting as spectators to a show of self-destruction? Granted, many of us still probably wouldn't approach a raging alcoholic stranger on the street and be like, "yo, put the bottle down, don't you know that stuff's bad for you?" so why would we approach someone, anyone, scarfing down a double double, milkshake and fries? Here are some of the predominant reasons:
Where's the line between someone who simply doesn't fit the Western-propagation of "thinness" and someone who is truly at an unhealthy weight? Can anyone "know" this by observance alone?
We don't know back-story. We don't know whether this is perennial behavior or a once-in-a-while thing; we don't know the cause of obesity for sure (and, hey, thin people eat like crap, too); we don't want to say something and offend the person (potentially perpetuating cycles of shame that lead to the self-destructive behavior).
We fear for our own safety (seriously).
We can admit that unlike other substances that can be abused, food is truly necessary to survive and if that's what a person can afford, or what a person is accustomed to, it's better than nothing (eating nothing = quicker death).
We don't want to encourage eating disorders, including orthorexia, by denying people's rights to indulge as they see fit.
Freedom — we've got choices, they made their own, so they'll live with 'em.
You can lead a horse to water…yadda yadda yadda.
We've all got problems/issues/therapy bills, etc. — the thing with "fatness" is that it's like a Scarlett Letter telling the world "hey world, I've got issues!" Why should we so self-righteously presume we've got the answer; got it all figured out?
Some commenters wrote about the precarious position of us "used to be fat" people. That we can truly feel compassion for overweight people and that our leading by example is akin to activism. Feeling myself very much in a precarious spot — a spot where I can say, "hey, look at me, I did it, so can you!" (and sound presumptuous and self-righteous) and a spot where I know what it's like to be 280 pounds and think if one more person assumes they know what's it like, I'm going to wear a sandwich board that says, "silence is golden."
I'm torn because the issue is even more complicated when it's a loved one we're talking about and not simply a stranger.
One of my most pervasive memories is of a trip to Hermosa Beach with my father and twin brother. This was early on in my parents' divorce and my dad was house-sitting and brought us along over the weekend to enjoy some time with him. One day during the trip, my dad handed my twin and me our own weight-loss charts — mine with a picture of a woman staring fanatically at her scale, my twin's with a dude doing the same. We later ordered pizza and diet soda for lunch. This is one scene of many in which attempts at instilling in us the "weight loss can-do" simply floundered. I can recall the hundreds my father spent monthly on Udo's vitamins and fish oils that were blended lovingly by my mom with fresh fruits each morning for a couple months straight. My twin and I plugged our noses with each sip and couldn't wait to come home after school, when our parents were at work, to gorge on the boxes of cookies and crackers waiting patiently for our return.
I'm torn because I know first-hand that watching someone "lead by example" can actually make you feel more hopeless. Sometimes I'd see people eating salads for lunch and dinner and tell myself, "gosh, I can never just eat salad! No way!" We can't step outside of ourselves to see when we're misrepresenting reality, misinterpreting the circumstances, justifying bad behavior, not giving ourselves a chance. Sometimes we simply see it as "this is me" and everyone/everything else is simply antithetical to me.
Alternately, I'm torn because I know first-hand that watching my twin brother succeed at turning his life around gave me the impetus to do the same.
I'm torn because I would also stay silent watching the overweight candy-eating woman instill in her daughter an unhealthy emotional relationship with food that could have life-long negative consequences.
Somehow amidst all of this frayed thought, I think there's a thin line between apathy and self-righteousness where we find social responsibility.
A comment on Diane's blog really echoed the core of where my feelings of "leading by example isn't enough" reside. Don wrote: "…when it comes to making healthy food choices we all are swimming upstream against some mighty strong currents!…if cauliflower and broccoli had the same advertising campaign with bazillions of dollars dreaming up jingles about 'deserving a break today' etc. instead of salivating and gorging on high-fat, high-sugar, highly processed NON-food items we would all be running around stuffing our faces with broccoli and cauliflower!  These multi-national corporations don't throw all their zillions of dollars into advertising because it's just *play* money! They are looking for a HEFTY return on their dollar. At OUR COST! They are looking to wage powerful influence on our so-called 'freedom of choice!' Can we still exercise freedom of choice? Sure! But it takes extreme vigilance, awareness of the forces which are out to decieve [sic] and mislead us. How many average citizens out there can do this…?"
This where my frustration lies, and it is a contentious position — I don't think people's unhealthy eating habits are simply dictated by "choice," especially when we're talking about children.
I am highly cognizant of my privileged in being able to afford and access healthy foods — and most importantly, being educated on how to live as healthfully as possibly. Others live in food deserts, are bombarded with commercials to eat and drink crap, can only afford the dollar-menu, literally do not have reasonable access to fresh fruits and vegetables, get subsidized lunches of crap with more crap, etc.
The good news is that these issues are becoming more and more prominent publicly. Michelle Obama's Let's Move campaign along with the Obesity Task Force (full report released; see here) are great examples of this. I know that within these two models of improvement there are issues (using the word 'OH!!!-besity!!!" instead of 'health' being just one of them) — but this is huge, people! My biggest concern with the Obesity Task Force is that its board of advisors consists of governmental agencies that propagate some of the very barriers standing in people's way to accessing health – for instance, the government subsidizes on grain crops instead of produce crops, which makes it easier for people to afford a BigMac rather than a salad (see here). Also, these governmental agencies are lobbied by industries like the Dairy Farmer's Association, etc — the very associations with big dollars going into misleading advertising campaigns (see here).
So, I've totally gone on a super-long rant. I guess my long-winded psuedo-point is: we can all lead by example and tastefully and rightfully stay silent. But there does come a time when that's not enough. Where does "enough" reside? I'm still finding my footing on that nebulous cloud of  thought, but I know that calling out food manufacturers is one way (like Michelle Obama did assertively here).
<3,
The Cranky One
Tags: fast food addiction, food addiction, food politics, food subsidies, Let's Move Campaign, michelle obama, Obesity Task Force, school lunches