Hey guys!
The meatless bandwagon just pulled up, and I think it deserves a round of applause. Yard House restaurant chain recently announced that it's now offering the option to replace the meat in 25 menu items with Gardein vegetable-protein at its Irvine, CA location; there are plans to extend this offering to its other locations this summer. According to Fast Food Maven's blog, the 25 dishes available for a meatless protein swap (at no extra charge) are denoted by a green dot on the menu. Adding Gardein to a starter salad, however, will cost you an extra $3.95.
This is great news for vegetarians and vegans, however, some words of caution are due — While Gardein products are vegan when they arrive to the restaurant, you'll have to specifically ask your server to cook your Gardein meat substitute in a separate pan. Since the Yard House is not marketing these dishes as vegetarian or vegan, the cooks will be following the standard procedure of cooking mock-meats alongside, and on the same grill, as meat-meat. Additionally, if you are vegan, note that many of these dishes have dairy and/or cheese items. So, review the menu ahead of time and make notes of what amendments you will request. Quarry Girl went ahead and tested out the vegan-friendliness of the Irvine location and was blown away by the staff's amenability to her requests (note that she went before the lunch-rush).
The options that can be Gardein-ized, per Fast Food Maven:
Appetizers
Fried Chicken Strips
Sliders
Bearnaise Sliders
Starter Salads (Add Gardein Option, $3.95)
Caesar
Chopped
Summer
Iceberg Wedge
Walnut Pear
Baby Leaf Spinach
Spicy House
Greek
Mixed Field Green
Classic Ranch
Grilled Hearts of Romaine
Entrée Salads
BBQ Chicken
Thai Noodle
Chicken Caesar
Burgers
Sandwiches
Chicken & Avocado
Spicy Chicken
Pizza
House Favorites
Chicken Rice Bowl
Orange Peel Chicken
Penne with Chicken
(Mac + Cheese)2
Chicken Enchilada Stack
Kids Klub
Hamburger/Cheeseburger
Chicken Fingers
I've sent an e-mail to the YH asking when exactly we can expect this option to be available at other locations and also asked when nutritional information would be updated to reflect the different protein component. Will keep you guys posted.
Coincidentally, Gardein recently sent me a couple coupons to sample their products. I tried two of their frozen items:
The Homestyle Beefless Tips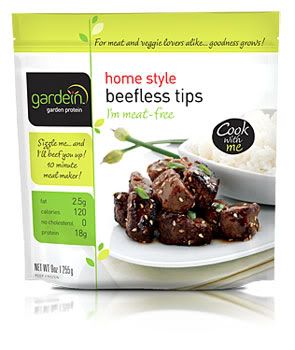 I thought these "beefless tips" were amazing! The flavor was deliciously reminiscent of the beef flavor from "beef with broccoli" Chinese dishes. So, I went ahead and added it to broccoli:


I was blown away at how effortless it was to cook the product. I simply sprayed a pan with non-stick cooking spray and heated it until warm throughout – about 10 minutes. Even my boyfriend, Mister 'I'm-A-Carnivore-Hear-Me-Rawr' liked it. That says a lot. Also, I was stoked to see the ingredients list and nutritional info.! Dayumn gina, this stuff's got good stats — 120 calories, 2.5g fat & 3g fiber/serving! The first three ingredients are water, soy protein, vital wheat gluten. A+ in The Cranky One's book.
Unfortunately, I also tried the the Marinara Chick'n Good Stuff…


and quickly wished I hadn't.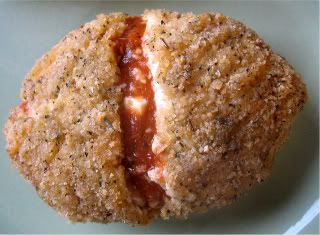 It looked and smelled delicious and I'll concede that I might not have let it cook enough, but one bite and I spit it out. I think it was almost too much like chicken in texture that, as someone nearing a year of no meat, I was just turned off before even chewing. Then the taste was no bueno — if a taste could introduce itself, this one would have said, "Hi, I'm unquestionably soy, but masquerading as chicken, nice to meet you." The stats on this product are also good, though — 210 calories, 4.5g fat, 3g fiber per serving and the same first three ingredients as the beefless tips.
So, there you have it, friends.
In other news, did you know Bob Harper (the adorable male Biggest Loser coach) recently announced he'd gone vegan (see here)? You know who else has gone V? Mike Tyson. Holy shiz, I'm not kidding — see here! Did you know Yard House isn't first to offer Gardein? Chipotle is offering it at three of its California locations (click here), too!
In related news, check out the Time Magazine piece titled, "Tastes Like Chicken: The Quest for Fake Meat" here (6/14/10).
What do you think about big restaurant chains offering meatless protein substitutes? If you've tried any of Gardein's products, what did you think?
<3,
The Cranky One
Tags: Bob Harper, Chipotle, Gardein, meat substitutes, meatless entrees, mike tyson, The Yard Hosue