Hey guys!
Rachel Carson may have published her groundbreaking book Silent Spring in the 60s, but the book's fear-inducing message about pesticides and environmental pollutants is still, if not more, relevant today.
Two things are for sure in America right now — one: we're experiencing what many deem "an obesity crisis," and two: we're experiencing a burgeoning fear of remnant chemicals & pesticides in both fresh and processed foods. The correlation between the two — between obesity and chemical/pesticide consumption — hasn't been too vigorously researched, but it's certainly starting to get there.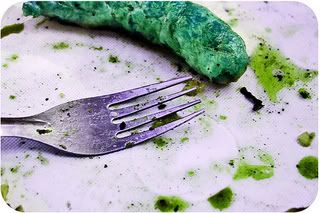 [photo cred]
Does this toxic food make me look fat? There's more to a French fry than its caloric price-tag
An article on Yahoo.com today (yea, I know, not the most academic source lol!), stupidly titled "Why You Can't Lose Those Last 10 Pounds" (here), pointed me in the direction of the discussion relating to obesogens, and I'm glad it did. Apparently, obesogens are thought to be chemical compounds that disrupt the endocrine system (via metabolism of lipids, for instance) and influence a person's propensity for obesity. In other words, there is increasing evidence that the adage "eat less, move more" is even more defunct than ever — environmental factors may be weighing more heavily on our waist-lines and health than we previously thought.
In a Newsweek article last September, writer Sharon Begley wrote: "Evidence has been steadily accumulating that certain hormone-mimicking pollutants, ubiquitous in the food chain, have two previously unsuspected effects. They act on genes in the developing fetus and newborn to turn more precursor cells into fat cells, which stay with you for life. And they may alter metabolic rate, so that the body hoards calories rather than burning them, like a physiological Scrooge" (linked here). The article mostly focused on the rate of infant obesity in America, a 73% increase from 1980, per the a scientist quoted in the piece. Since we can't really prescribe the same blame to 6-month-olds as we can to adults (i.e. "you should be running more on that treadmill, baby!"), there's obviously something more at play here. Scientists quoted in the article surmise it's latent chemicals in formulas (perhaps soy-based chemicals) that could be disrupting the babies' healthy development.
But it's not just babies who should be cryin' up a storm, my friends. According to Bruce Blumberg, biologist at UCI (my alma mater!), adults could already have suffered the developmental stunt (esp. those born right after WWII) or be prone to it now. In a UCI article titled "Big on Obesogens," Blumberg is quoted as saying, "'It makes a lot of sense that chemicals able to reprogram metabolism and favor the development of fat cells could be important contributing factors to obesity. The role of obesogens in fat accumulation raises questions about the effectiveness of just diet and exercise in helping people lose pounds and maintain a proper weight'" [full article linked here]. Ok, so basically: calories in versus calories out +/- how screwed up your endocrine system is due to unintentional chemical/pesticide consumption = eh, I've gone cross-eyed.
Why Calories In Versus Calories Out is Way Old-School
"The only way to gain weight is to take in more calories than you burn," says Blumberg. "But there are lots of variables, such as how efficiently calories are used." Someone who uses calories very efficiently, and burns fewer to stay warm, has more left over to turn into fat. "One of the messages of the obesogens research is that prenatal exposure can reprogram metabolism so that you are predisposed to become fat," says Blumberg. [source]
Michael Pollan recently pointed his Tweeps to a "Fascinating study that suggests why processed food might be more fattening than whole, even when calories the same" published in Food & Nutrition Research early this July. Titled "Postprandial energy expenditure in whole-food and processed-food meals: implications for daily energy expenditure," the study found that the body uses more energy metabolizing a meal from less-processed foods than more-fully-processed foods [linked here]. Unlike what many surmise about satiety (that less-processed foods always = more satiating), the study's participants found both the more-processed and less-processed meals to be equally satiating, but their bodies consumed more energy metabolizing the less-processed foods, which meant less calories leftover for the body to store as fat.
Instead of taking an extremist's interpretation of this and either absolving yourself from all personal responsibility, or from getting so anal with fear that you go hibernate in a bunker and eat only root vegetables you grow yourself, make peace with what you can do at this very moment:
Eat Less Processed Crap. No for real — have you seen all the food recalls lately? It's insane! From toxic fumes lining cereal bags to actual bits of plastic being found in your kid's chicken nuggets (or from silly putty being put in McD's nuggets), there's just too much shit in your food that could be seriously screwing your system. Forget how many calories are in that processed meal — think about how you can't go take a 3-mile run to burn-off damage to your endocrine system.
Careful with plastics & BPA. "Use glass and stainless steel instead of plastics to store fluids and foods," Blumberg says. "And try to get locally grown produce, organic if possible" [source]; "Never heat food in plastic containers or put plastic items in the dishwasher, which can damage them and increase leaching. BPA leaches from polycarbonate sports bottles 55 times faster when exposed to boiling liquids as opposed to cold ones, according to a study in the journal Toxicology Letters" (linked here) [source]; "Avoid buying fatty foods like meats that are packaged in plastic wrap because EDCs are stored in fatty tissue. The plastic wrap used at the supermarket is mostly PVC, whereas the plastic wrap you buy to wrap things at home is increasingly made from polyethylene" [source]; and "Cut down on canned goods by choosing tuna in a pouch over canned tuna. And get any canned and jarred foods from Eden Organic, one of the only companies that doesn't have BPA in its cans" [source]
Some of the academics researchin' and/or talkin' 'bout "obeseogens":
What do you guys think about pesticides and chemical residues actually morphing human biology to yield a predisposition for obesity? Some have commented on the sources above with concern that some would consider this an "out" — or a way to blame external factors for their obesity?  What do you think? Are pesticide/chemical residues in foods a legitimate concern and factor to consider?

<3,
The Cranky One