Hey guys!
Food companies are getting a lot of flack these days from everyone including Michelle Obama, who assertively pointed her finger at their lack of corporate responsibility, to interest groups and non-profits, to my platonic-crush Michael Pollan.
Even still, do you really pay attention to what you're eating and drinking?
What drives me a little crazy is that a lot of us (myself included!) will pay attention to processed foods and drinks long enough to absorb their marketing messages — "100% whole grains!" "organic!" "essential antioxidants!" — written boldly on the front long enough to justify our impending mastication. But we typically don't pay attention long enough to read and take in the back of the package housing the nutritional label!
Trusting the front of a package is like taking something for face value; Judging a book by it's cover; Deciding to marry someone after a 5-minute speed-date; Hiring someone based on a cover letter without receipt of a resume (or in-person interview); catch my drift? It's just plain stupid. Though…
Angst aside, I get that it can be tedious to consistently attempt to interpret cipher-like labels. I, for one, am not immune to being an idiot! Let's be real
There was the vegetable broth with high fructose corn syrup incident. Oh, and I can't forget the gelatin incident. But…those aside…There's gotta come a point where we either accept our own nonchalance towards our health, or actively pursue it.
Today, The Consumerist took note of SnackGirl's blog when they highlighted how "Whole Grain" Wheat Thins were not only not nutritionally superior to their "regular" non-whole-wheat counterparts, but they were also worse for having added high-fructose corn syrup, fat and sodium! Son of a hydrogenated oil!
I guess we shouldn't be surprised by food companies being sneaky weasels, though, right? I mean look at Kellogg's FiberPlus Antioxidants Cereal — it's been all over blogs for its 83-questionable-ingredients [see here & here, for example].
But what about when a food company stops apologizing, looks us straight in the metaphorical eye and basically says, "what did you expect, you idiot! That we wouldn't try to trick you?!" What do you say?
Well whatever you'd have to say, say it to the Coca-Cola company who basically said just that when defending its product "vitaminwater" against claims of falsely listed health benefits.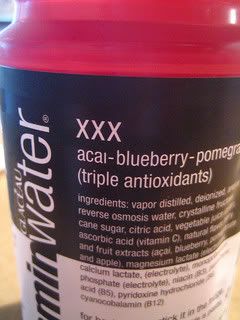 [photo cred]
Vitaminwater is basically just sugar-water with packaging falsely advertising health benefits, said the Center for Science in the Public Interest, who took Coca-Cola to court. In a humorously spoof-like-but-real turn of events, Coca-Cola reps contended that "no reasonable consumer could have been misled by vitaminwater's labeling" [see pg. 33 of court documents here]. Why? Because "(1) the FDA-mandated label on each bottle bears the true facts about the amount of sugar per serving; (2) the allegations about brand names like 'vitaminwater,' the one-word flavor names like 'rescue,' slogans like 'vitamins + water = all you need,' and sayings like 'healthy as a horse' describe only puffery; and (3) no reasonable consumer could believe that vitamins and water are literally 'all they need to survive' or all that 'is in your hand' when holding a bottle that disclosed the presence of sugar."
Basically, Coca-Cola wants you to know that even though they spend loads of money on advertisements and celebrity endorsements, they do it just for the fun of it! They know no reasonable person would actually fall for any of their health claims! Hmm…good twist Coca-Cola! Either we're idiots, or we're on your side! (and no mention of where kids may fall into this logic trap).
They also think that all of us "reasonable" consumers know that we shouldn't actually expect something to literally be what it claims it is — that would be…well, god, now that would be too reasonable. This is interesting in light of the National Milk Producers Federation who is fighting, legally, to maintain the denotation of milk, as associated with dairy, to oust its almond- and soy-milk counterparts; but Coca-Cola is saying screw semantics in general — arguing no matter what they call it, the consumer shouldn't expect an association between its name and its ingredients. I'm going to create a product called VitaminAlmondMilkWater just to piss everyone off.
Coca-Cola, in the interest of all of us, why don't you just pretend all of us consumers really are unreasonable idiots. Maybe that way your products will actually be what they claim to be and you will save millions by not having to create misleading ads, find celeb endorsements or keep your Pinocchio-nosed-pants-on-fire legal legal team out of court.
<3,
The Cranky One
See also:
Robbins, John. "The Dark Side of Vitamin Water." The Huffington Post 5 August 2010 [here]
Hobson, Katherine. "What do Jelly Beans Have to do with Coke's Vitaminwater?" WSJ 26 July 2010 [here]
Tags: center for science in the public interest, coca-cola, food labeling, misleading consumers, vitaminwater