Amended
Hey guys!
I've compiled some cool resources in the past couple of months relating to the "local food" movement and I wanted to share them with you and get your thoughts.
In general terms, the local food movement is an effort to build local "food communities" for both social-health and sustainability reasons. Basically, people want to become more acquainted with, and invested in, their food. It's about empowerment, accountability and personal responsibility. This certainly isn't anything new, but it seems to be gaining more mainstream prominence — perhaps b/c Michael Pollan has become such a vocal proponent.
Awesome National Examples
See Grist magazine's "Feeding the City" series, which delves into the history of urban farming and current examples of cities like Detroit where the fall of industry has led to a "community garden movement." [see here]. This series is captivating!
Learn about Brooklyn High School's weekly 500-lb-organic-produce yield. Insane. [here]
If you want to check whether a restaurant near you serves local and sustainable meats &/or produce, check the Eat Well Guide [here]
Awesome Local Examples
More and more restaurants in my city of Long Beach, CA are promoting their own efforts to incorporate local produce. Restaurants that I know of include: The Factory, SIP, and Zephyr. Any LB-ers know of others? I know there's tons in Los Angeles and a few in Orange County, including:
Wrigley Garden – A local Long Beach garden, located at 1950 and 1960 Henderson Avenue [map here], with farm stands on Fridays from 2-6 p.m. [here]
Farm Lot 59 - Another Wrigley (Long Beach) creation — Sasha Kanno, who is behind this project as well as the Wrigley Garden, recently reached her funding goals (and more!) to develop Farm Lot 59, which "will serve as an educational resource for the Long Beach community. Children, along with their parents and teachers they can come and learn about urban farming and earth's ecosystems. A designated children's garden is envisioned, where the plants will be identified with their nutritional information as well as alternate uses. Children will be able to meet chickens, explore the farming operation, and identify bugs and flowers. This area will feature a design specifically for children, with everything sized to fit smaller hands and bodies. The Farm will also feature an outdoor kitchen where cooking and nutrition classes can be held. For both adults and children, obesity is on the rise, although greatly preventable. Nutrition education is an important component to the Farm, starting children off young eating their fruits and vegetables, learning how to shop on a budget and preparing meals at home." Amazing. [See here]
Long Beach Farmers' Markets. There are three certified farmers' markets that I know of: 1) Downtown Long Beach on Fridays, 10 a.m. – 4 p.m.; 2) Southeast Long Beach (Alamitos Bay) on Sundays from 9 a.m. – 2p.m.; and 3) Uptown Long Beach (Atlantic & 46th) on Thursdays from 3 – 6:30 p.m. There is also a Farmers' Market at Marine Stadium on Wednesdays from 2 – 7 p.m. (I don't think it's "certified," but I also don't think that matters…)
The Debates on Local Food, Sustainability
My Support for Local Food
I recently joined my local CSA, Beachgreens, and received my first drop-off of fresh, local and organic produce: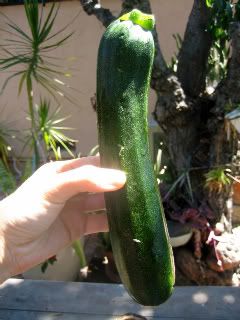 Cranky & the not-so-giant Peach
I plan to do a cost-comparison between joining a CSA and buying your own organic produce b/c I know that financial limitations bar a lot of people from buying organic produce. So, we'll see! Of course, the best thing I could do would be to start my own garden. In the works!
Do you make a conscious effort to eat local and sustainable foods? If yes, how? If not, why not? Any resources and/or additional local- and sustainable-foods-focused restaurants you can point me to? How do you feel about the term "sustainable meat"?

p.s. This was written earlier today when I was at Panera Bread in Irvine hijacking their free internet while listening to Chef Tanya of Native Foods give a presentation outside her restaurant! I listened to her talk about vegan cheese & pesto, while asking the audience their astrological signs and handing out cake samples. Gotta love her
I was waiting to meet, and have since met, the adorable and amazing Jasmine from Eat, Move, Write! It was my first blogger meet-up, and, well, any others will have a really high bar of expectations after this meeting! Love her!
<3,
The Cranky One
Tags: agribusiness, eat well guide, locavore, michael pollan, sustainability, the local food movement, wendell berry