Hey guys!
If you're looking to try some new foods, may I suggest a few of my new faves?
Food For Life/Ezekiel 4:9 Sprouted Grain English Muffins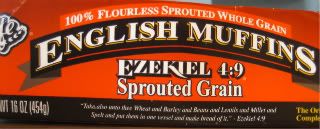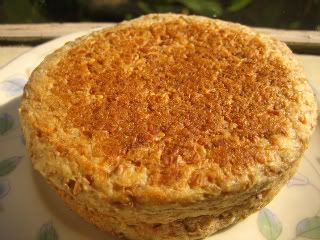 I love these English muffins! I toast them very lightly (careful when toasting sprouted grain products, they burn more quickly!) and eat them plain.
One muffin: 160 calories, 1g fat, 160mg sodium, 30g carbs, 6g fiber, 0g sugars, 8g protein – How about those stats?! Amazing. There are two cons to these yummy babies, though: 1) I can only find them at Whole Foods, and 2) They are nearly $5 a box ($4.69 for a six-pack). I think they're totally worth it though, not gonna lie!
Food For Life/Ezekiel 4:9 Organic Sprouted Whole Grain Sesame Bread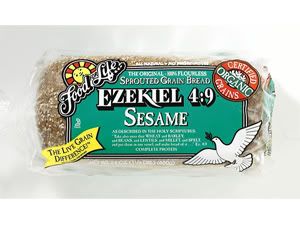 One slice: 80 calories, 0.5g fat, 80mg sodium, 14g carbs, 3g fiber, 0g sugars, 4g protein
I love the taste of sesame seeds and this bread is amazeballs with some peanut butter!
What are the benefits of "sprouted grain" products?
Sprouted grains are grains that have been soaked, drained and then rinsed until they germinate (or grow that cute little head). Technically, you can sprout your own grains (and I hope to do so someday!). So, sprouted grains are highly unrefined – which is a good thing! And, since these grains are typically not cooked, that means that the grains retain their natural plant enzymes (which have been found to aid digestion) and all the nutrients and vitamins that are usually stripped from grains when they are refined and cooked. Flour-less breads, like the two listed above, are made from grinding sprouted grains and legumes. Since the grains are sprouted, they are often referred to as "alive" or "live grains" since they retain the living brain and germ. They also happen to be "complete proteins" because they contain all nine essential amino acids. Note: Sprouted grains should be refrigerated or frozen since they are not made with preservatives.
Arrowhead Mills Organic Puffed Kamut Cereal
$1.79 at Whole Foods
One cup: 50 calories, 0g fat, 0mg sodium, 11g carbs, 2g fiber, 0g sugars, 3g protein
I love this cereal because I can eat two huge cups of it with some almond milk and hardly make a dent in my calories bank. This is great to add to your favorite higher-cal cereals (Mmm Kashi Cinnamon Harvest!) to add volume, or add to your own homemade trail mixes, granola bars or rice bars. See my tips on choosing cereal here.
All three of the above are vegan, too, of course
Any new faves you want to share with me?
<3,
The Cranky One
p.s. Last chance to enter to win a free subscription to VegNews Magazine here
Tags: cereal, Ezekiel 4:9 bread, Kashi, trader joes, Whole Foods, whole grains