Hey guys!
Today's blog is brought to you by bullshit. I was watching TV while eating my delightful dinner of two pounds of steamed broccoli with low-sodium soy sauce & hoison with a side of Eziekel toast with p.b. (I know, my food choices are riveting) when I saw a commercial for the Special K challenge [here].
According to the commercial, you can lose up to six pounds in two weeks. Wow, most doctors recommend a maximum weight-loss of two pounds/week to be safe and healthy, so already a red flag goes off in my head. Then, I decided to scope out the website to build my own weight-loss program for fun and I was…not having fun. This shit is kinda scary. Check out a sample food plan for a day in the two-week program for someone who has a sweet tooth (which Zeus knows, I do!) — The "Chocolate Lover's Plan."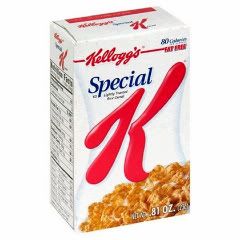 "Special" K Program – So not oK.
Meal #1
Chocolatey Delight Cereal (1 serving, 3/4 cup with 1/2 cup dairy milk): 160 calories, 2g fat, 245mg sodium, 3g fiber, 15g sugars, 6g protein
Nasty note: Contains high fructose corn syrup and hydrogenated oils.
Snack #1
Vanilla Crisp Bar (1 bar): 90 calories, 2g fat, 90mg sodium, 3g fiber, 6g sugars, <1g protein
Nasty note: Hydrogenated oils abound.
Meal #2
Chocolate Peanut Butter Protein Meal Bar (1 bar): 180 calories, 6g fat, 250mg sodium, 5g fiber, 15g sugars, 10g protein
Nasty note: First ingredient, which means highest concentration, is "COATING (SUGAR, PARTIALLY HYDROGENATED PALM KERNEL OIL, COCOA PROCESSED WITH ALKALI, WHEY, NONFAT MILK, SOY LECITHIN, SORBITAN MONOSTEARATE, SALT, ARTIFICIAL FLAVOR, POLYSORBATE 60)." Hydrogenated oils? Check. Loads of sugar? Check. Chemical Polysorbate 60 which has been linked to cancer [here]? Check. D'oh!
Snack #2
Multigrain Crackers (17 crackers): 90 calories, 2g fat, 190mg sodium, 2g fiber, 5g sugars, 2g protein
Nasty note: Contains TBHQ, a chemical preservative that has been linked to cancer [see here].
Meal #3
Pork Chop with Pomegranate Glaze (1 serving, recipe property of Kellogg; calculation via SparkPeople)

Amount Per Serving


Calories

393.9

Total Fat

18.5

g

Saturated Fat

6.8

g

Polyunsaturated Fat

1.4

g

Monounsaturated Fat

8.3

g

Cholesterol

116.2

mg

Sodium

380.6

mg

Potassium

624.8

mg

Total Carbohydrate

13.6

g

Dietary Fiber

0.3

g

Sugars

12.7

g

Protein

41.0

g
First things first — your total food consumption breaks down, nutritionally, to a total of: 913.90 calories, 30.5g fat, 1,155.60mg sodium, 13.3g fiber, 53.7g sugars, 60g protein. Even if you add a side salad to your dinner, you're consuming much less calories than is typically recommended by medical professionals for healthy weight loss. This would make sense as to why you could lose up to six pounds in two weeks — you're literally starving your body, which can actually have adverse affects later on by making your body hold on to calories more stringently by slowing down the metabolism and going into self-preservation-alarm mode. In fact, the Journal of the American Medical Association published a study in 2006 that reported that participants who maintained a calorie-restricted diet for six months showed a reduction in metabolic rate "beyond the level expected from reduced metabolic body mass"(so a decrease that's more than to be expected by weight loss alone) [see here]. This is completely self-defeating since the body adjusts to eating less calories which means future weight-loss, if the same restriction is followed, is impossible. So you'd technically have to starve your body even more.
Secondly, with the exception of the pork loin dinner, your calories are all coming from highly processed foods loaded with hydrogenated oils (trans fat!), sugars (inc. high fructose corn syrup), and chemicals & preservatives linked to cancer. These are bad calories. Why? Because not all calories are created equal. More and more studies are showing that calories consumed from processed foods are not metabolized the same as less processed foods. For instance, a 2010 study in Food & Nutrition Research found that the body uses more energy metabolizing a meal from less-processed foods than more-fully-processed foods [linked here]. Unlike what many surmise about satiety (that less-processed foods always = more satiating), the study's participants found both the more-processed and less-processed meals to be equally satiating, but their bodies consumed more energy metabolizing the less-processed foods, which meant less calories leftover for the body to store as fat.
There are also studies that indicate that the body metabolizes carbs, protein and fats differently, usually favoring protein as one that both satiates and metabolizes more efficiently than carbs. I have to do more research on this particular idea, since I'm not sure what type of carbs exactly are compared to what exact protein, but it does, in general, indicate that the body is not an indiscriminate calorie consumer.
Looking simply at calories in versus calories out is entirely too simplistic since it completely ignores that there are biochemical processes involved in the body — insulin, grehlin – that regulate hunger and metabolic efficiency. Not to mention that people are unique (go figure) and need different things based on their genetic make up and lifestyle. We can't also forget the psychology of dieting. I, for one, would be agitated as hell if I had to consider a sugar-laden protein bar as a complete meal.
For another interesting recount of the psychological effects, consider this quote from Judith Matz in her article, "Diets and Our Demons" in Psychotherapy Networker (Jan/Feb 2011): "In a classic study during the 1940s, researcher Ancel Keys studied 36 conscientious objectors to see what would happen if they were placed on a semistarvation diet for six months. The men were given nutritionally adequate food, with the same calories as most commercial weight-loss plans. The changes observed were dramatic. In addition to losing about 25 percent of their body weight, they experienced noticeable personality changes, becoming lethargic, irritable, depressed, and apathetic. They became obsessed with food, and they talked constantly about eating, hunger, and weight. Once the men had begun the refeeding portion of the study, restrictions were no longer placed on their eating. They binged for weeks, often consuming food to the point of feeling ill. Despite their overeating, they continued to report feeling ravenous. The weight previously lost returned rapidly as fat, and most of the men lost the muscle tone they'd had prior to the experiment. Some of them ended up weighing more than they had before the start of the study. Their emotional stability and energy returned only after they'd regained the weight." [source]. Eek. Also, consider that less than one percent of dieters have been shown to maintain their weight loss for five years (source: Matz). And, according to Matz, additional psychological tolls to consider: "…people who diet are eight times as likely to develop an eating disorder, score higher on measurements of stress and depression compared to nondieters, and experience greater health risks, such as cardiovascular disease and Type 2 diabetes as the result of weight cycling."
So, what's my point in all of this? It doesn't take a rocket scientist to know that diets like the Special K Challenge are ridiculous and harmful. And yet I have also shown that dieting/calorie restriction in general, processed foods consumption, diet mentality, etc. are also potentially hazardous. So is my goal to have everyone who wants to lose weight for health reasons simply throw up their hands and grab a cheeseburger? Hell no. I think that the healthiest way to approach weight-loss is 1) not as "weight-loss" but as "healthy habit acquisition" and 2) Approach everything mindfully and consciously, empowering yourself with knowledge and resources. Once you decide that you're actually going to live fully cognizant of what you're doing to your self, you'll find that you question what you're eating and how it makes you feel. You won't be wont to stuffing a meal replacement bar in your face as part of a "diet." Instead, you'll ask what your body really needs and what will make you feel better holistically. It's so obvious, when we're open minded and truly awake, that the body and mind are so intricately connected and that any eating and lifestyle plan has to address, and respect, both.
Want to check out a book about the calories in versus calories out stuff? Check out Good Calories, Bad Calories: Fats, Carbs, and the Controversial Science of Diet and Health.

Contests
<3,
The Cranky One
Tags: diets, psychology of weight loss, special k