Hey guys!
I was excited to see on yesterday's post and on Facebook that quite a few of you are going to participate in the "Comps 10 Challenge" by doing challenges of your own! Yippey! It'll be nice to have company
So, despite the fact that the last thing I wanted to do was weigh and measure myself this morning (talk about a buzz kill), I did it anyway. And, to be honest, I was more than shocked. I had avoided the scale for a few weeks and today revealed a not-so-happy surprise. Let's just say that I should have called this challenge the "Comps 15 Challenge." Oy.
But…what are my options here? I can mope and whine and pity myself. Or, I can get my booty back to the gym. Seems like a simple enough decision at this point. (Can I still whine though? hehe)
Here are the numbers that I will use to gauge progress over the next two months (and posting this is actually way more embarrassing than I had anticipated
):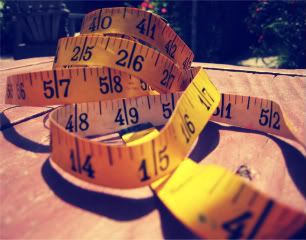 Body Measurements
Bust (measured around the chest right at the nipple line..TMI?) – 37.5 inches
Calves (measured around the largest part of my calf) – 13.5 inches
Chest (measured just under my bust) – 36 inches
Hips (measured around the biggest part of my hips) – 38.5 inches
Thighs (measured around the biggest part of my thigh) – 21 inches
Waist (measured a half-inch above my belly button) – 30 inches
Upper arm (measured around the largest part of my arm above the elbow, below shoulder) – 12 inches
Weight: 142.6 lbs (this is the highest weight I've been in two years )
Strength (consecutive reps until I have to stop)
Body squats: 50
Chin-ups: 1
Crunches: 43
Pull-ups: 5 <–hilarious
Push-ups : 5 <–hilarious
As I was running my 6-mile route today, my internal dialogue sounded something like this:
Self #1: how could you gain nearly 15 pounds in one semester? Seriously! That's insane!
Self #2: it was a small price to pay for recovering from an eating disorder and getting a master's degree!
Self #3: shut up, both of you, and turn up Beyonce's "Girls" – it's my jam!
Then, I remembered something that made me smile and that shut up the entire discussion. Last week I posted on Facebook that I couldn't wait to get back into shape and asked people to remind me of my excitement when I was contemplating ditching my 6-mile run to stay inside and eat Bon Bons instead. Lara commented: "If you can run 6 miles I'd say you're already in pretty good shape!" Thanks, Lara, because that's been giving me positive energy ever since you said it!
So, this is where I'm starting from and I can't wait to see where I'll be in two months.
For those of you who are doing your own challenges, what are the stakes? What do you hope to achieve in two months? And, just a reminder that it's on Mondays that I'll post a recap showing all the activity I did for the week prior as well as calorie/nutrition information.
<3,
The Cranky One
Tags: comps 10 challenge, fitness challenges, weight loss, weight loss challenge