Amended
Hi guys!
Guess what?! We have new muuuuuusic! *cackles*
The release of my band, The Antique Toy's, album "When it Started to Begin" couldn't come at a more meaningful time — at least for me (and it's all about me, right? harharhar). As a freshly graduated chick trying to take over the world like Pinky & the Brain (I hope I'm the Brain in that figurative duo…), I'm facing a lot of questions, challenges and…well, beginnings.
New track, "Falling," dropping either today or tomorrow

[Updated 8/24/11 - The track is heeeeere! yippey!]
New job.
New treat!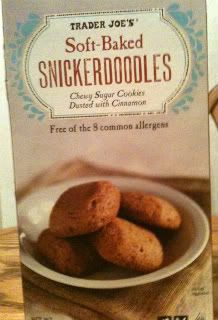 Unfortunately, Trader Joe's pulled its signature move and discontinued a product that I fell in love with (never fall in love with items from TJ's – as soon as you do, they pull them like some sick commitment-phobe) – the product I'm talking about is vegan mochi, by the way, not these delicious snickerdoodles! I came upon these snickerdoodles after crying to one of the TJ staff about the mochi (ok I didn't cry, but I certainly was whining. Poor TJ crew member). Then, like a mirage, I saw these cookies with the "v" for "vegan" label. Then I looked at the stats…not too bad. Then I took them home and tried one. Then two. Then three. You get the picture. These blow my mind! They're so soft and gooey…mmmm! Nutritional stats for two cookies: 130 calories, 4.5g fat, 110mg sodium, 21g carbs, 2g fiber, 14g sugars, 1g protein. Ingredients: sorghum flour, date paste, grape, apple and pear juice concentrates, brown pure cane sugar, expeller-pressed vegetable oil (safflower oil and/or sunflower oil), natural rice dextrin, ground flaxseed, water, xanthan gum, baking soda, vanilla, salt, cinnamon, rosemary extract.
Since I got an iPhone about a week ago, I've been having fun learning about all sorts of new health-related apps. Of course, the first one I downloaded (at the Apple store, actually — that's how much I couldn't wait!) was the Fooducate app! In using the Fooducate app – the above cookies are rated at a B-, which makes sense – they're mostly sugars, they've got some ingredients you wouldn't produce in your kitchen like xanthan gum and rice dextrin, etc.; but, for a treat, I think a B- is fine. The cool thing about Fooducate is that it lets you compare snacks and it also gives you info. on the questionable ingredients, like what xanthan gum really is. Mmm bacteria!
Wait, did I say "new job"?
More on that to come. In the meanwhile, please go buy a box of snickerdoodles and then come back here to comment and tell me how foodgasmic they are!
Any beginnings you want to tell me about?! I'm all ears! errr…"eyes." Any iPhone apps I should download?

<3,
The Cranky One