I made you drool on Facebook *neiner neiner*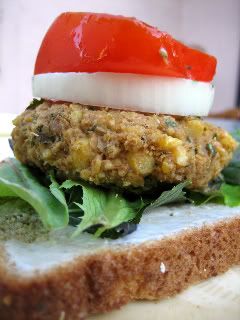 These burgers are spicy. be warned.
Cilantro Jalapeno Chickpea Burgers
Inspired by Kathy aka The Healthy Happy Life's Vegan White Bean Burgers with "Cheese and Bacon"
Makes 4 patties
Ingredients
1 can chickpeas/garbanzo beans, rinsed and drained
1/2 tbsp olive oil
1 tbsp smooth peanut butter
1/4 cup nutritional yeast
1/4 cup panko bread crumbs
2 tbsp apple cider vinegar
1 tsp minced garlic
1 bunch cilantro, washed and chopped (what is a "bunch"? damned if I know. I just took a handful and chopped; about 1/2 of the fresh package from Trader Joe's)
1-1.5 tbsp chopped jalapenos (these are not for the faint-hearted!)
salt and pepper to taste
cajun seasoning to taste (I used a lot a) because I'm dating a ragin' cajun and it only seemed appropriate and b) because I like things spicy!)
Directions
Preheat oven to 400 degrees
Mash up all ingredients. wow, that was tough!
Form into four patties with your hands. Gettin down 'n dirty…
Place onto a cookie sheet covered with foil and bake for 20-30 minutes minutes; flip half way
Nutritional info. for one patty: 210 calories, 4.7g fat, 375 mg sodium, 33g carbs, 7g fiber, 0.6g sugars, 11g protein
I ate the burger atop sprouted bread with a bit of vegan mayo, tomato, lettuce and onion. You can be fancy like Kathy and top with Daiya cheese and tempeh bacon. MmmmMMmmmm.
Enjoy!
One more pic for good measure…
<3,
The Cranky One
p.s.! Winner of the "What Caesar Did for my Salad" book giveaway was #5, per Random.org, so that's Diane! I'll email ya.
Tags: chickpeas, vegan entrees