Hey guys!
More companies are facing legal recourse over misleading advertising. General Mills' products "Fruit Roll-Ups" & "Fruit by the Foot" and Skecher's "Shape Up" shoes follow the heels of the Nutella lawsuit and Kashi indictment.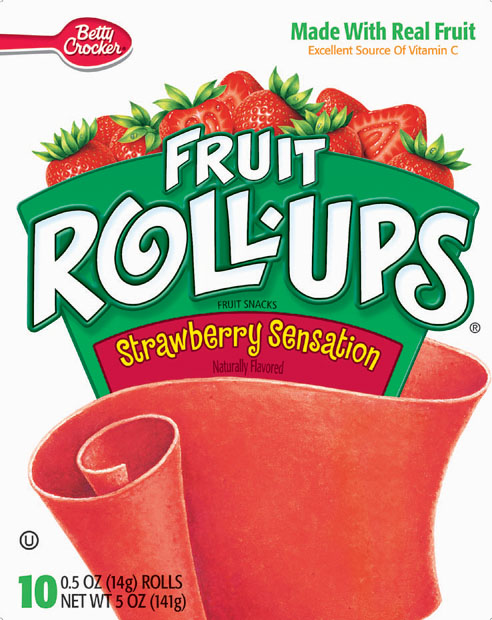 Made with "Real Fruit" my ass.
Annie Lam, a resident of Daly City, California, is the claimant seeking class-action status in the General Mills case. According to an article in Reuters, Lam's argument is that "General Mills incorrectly described the ingredients of its fruit snacks, citing strawberry-flavored Fruit Roll-Ups that contain 'pears from concentrate,' but no strawberries. Among the ingredients listed in court papers are corn syrup, dried corn syrup, sugar and partially hydrogenated cottonseed oil." A judge has recently moved her case forward on the ground that a reasonable consumer could be misled by General Mills' "real fruit" statements.

The claimant is right. In looking at the General Mills site, I can see that the ingredients in a "Strawberry" Fruit Roll Up are:
pears from concentrate, corn syrup, dried corn syrup, sugar, partially hydrogenated cottonseed oil. Contains 2% or less of: citric acid, sodium citrate, acetylated monoglycerides, fruit pectin, dextrose, malic acid, vitamin C (ascorbic acid), natural flavor, color (Red 40, yellows 5 & 6, blue 1).

Ingredients in a "strawberry" Fruit By the Foot are:
pears from concentrate, sugar, maltodextrin, water, corn syrup, partially hydrogenated cottonseed oil. Contains 2% or less of: carrageenan, citric acid, acetylated mono and diglycerides, sodium citrate, malic acid, xanthan gum, locust bean gum, vitamin C (ascorbic acid), potassium citrate, natural flavor, color (yellow 5, Red 40, blue 1).
So basically, these are rolls of corn syrup mixed with artificial shit being marketed as having "real fruit" and being an "excellent source of "Vitamin C." How is this even allowed? With Nutella – I could see how part of the problem was simply ignorance on the part of the consumer. Nutella did not say it was sugar-free but did imply it was healthful by way of its advertising as "part of" a healthful, balanced breakfast. In this case, saying that Fruit Roll-Ups or Fruit by the Foot are made with "real fruit" is like saying beer is made with "whole grains." Come on now.
In the Skechers case:
The class action settled at a hand-wringing $40 million after the company was charged with misleading consumers via its very overt ads, some of which promised "85% 'muscle activation' raised for some posture-related muscles, and 71% for one buttocks muscle'" per the article in USA Today. The article went on to say the case may be the "FTC's largest ever [case] involving consumer refunds." Compare that to Nutella who just had to pay $3 million to class action recipients.
Also from the USA Today article: "Under the settlement, Skechers will be barred from making unsubstantiated claims about the health and fitness benefits of Shape-ups and related footwear. The commission alleged Skechers also made deceptive claims about its Resistance Runner, Toners and Tone-ups shoes.
The FTC also said research underlying the claims was suspect. Steven Gautreau, a chiropractor, recommended Shape-ups based on a clinical study he claimed was "independent" and tested the shoes' benefits compared with regular fitness shoes, the FTC says. The study did not produce the results claimed in the ad, the FTC says. Skechers also didn't disclose that Gautreau is married to a Skechers marketing executive and that Skechers paid him to do the study, FTC says."
There are a couple lessons here for marketers all around the world:
 Do not hire a chiropractor to conduct a study that makes medical claims.
Do not hire an outside party to conduct scientific experiments who also happens to be sleeping with someone in your marketing department.
Do not hire Kim Kardashian to be a spokesmodel. (ok, this is more a personal preference
Stop banking off of women's insecurities to sell a product and instead invest in creating a product that provides real value.
Don't rely on the ignorance of consumers to keep your secret. While we consumers have been pretty dumb for a while now, we're getting smarter. And angrier.
I hope the dieting industry gets its fair share of a shit storm any day now…
<3,
The Cranky One
Tags: deceptive marketing, fruit by the foot, fruit roll ups, FTC, lawsuits, skechers