Hey guys!
As I'm doing a lot of power lifting and trying to gain enough muscle to make my lifts, eating sufficient protein is kinda like…necessary. I've audited my diet before (& found out I was getting 12g of fat for an entire day! no good!); and shared my high-fat, high-protein meal plan. This time? Trying out some meal plans that are a bit more well-rounded than my previous high protein, high fat one. I'm also using fortified vegan soy milk to ensure I get B12 (need two cups of the Trader Joe's brand to get 100% DV) rather than nutritional yeast. I came to this meal plan by veganizing the plan Daniel Craig used to muscle-up for his infamous Bond role (which my boyfriend, major Bond aficionado) provided. Yep, that's right, Bond (a franchise I have no interest in aside from when Garbage sang the opening song, but that's where the interest ended) is what's inspired how I'll be fueling my body.
I'm only showing this picture of Craig so that if you've never seen or heard of the actor, this will educate you. Yep, this is purely educational.
Vegan Bond Diet
You can download a PDF of the document via the link above.
Since I mention "blackened tempeh" as a meal option for dinner, I should share that I got the idea, and recipe, from Isa's book, Appetite for Reduction. It's amazeballs. I served it with Trader Joe's new fresh pasta (found in refrigerated section) and TJ's tomato basil sauce. The pasta & sauce are not a necessarily a part of the meal plan, but ya guys know me – I don't believe in "diets," I just need a foundation to have in mind, otherwise I revert to what's quickest and easiest and find myself getting no healthful fats or enough variety. This way, I have a range and balance to shoot for.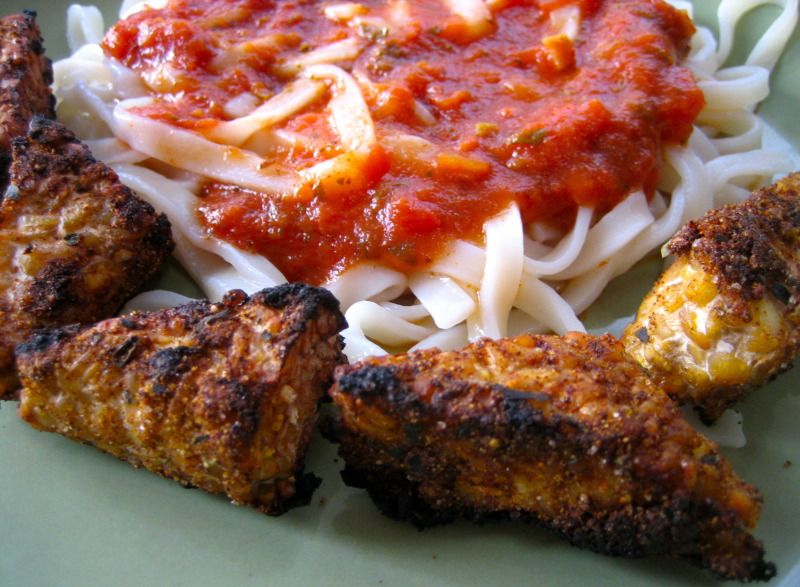 My boyfriend and I cooked up the above meal as part of our 4th of July celebration. Unfortunately, instead of a beach day or time with our families, our day consisted solely of boxing up items and organizing as we are preparing to move in together this August. I guess this isn't actually unfortunate; it's rather exciting
I did, of course, find time for smooching Kahlua. There's always time for that.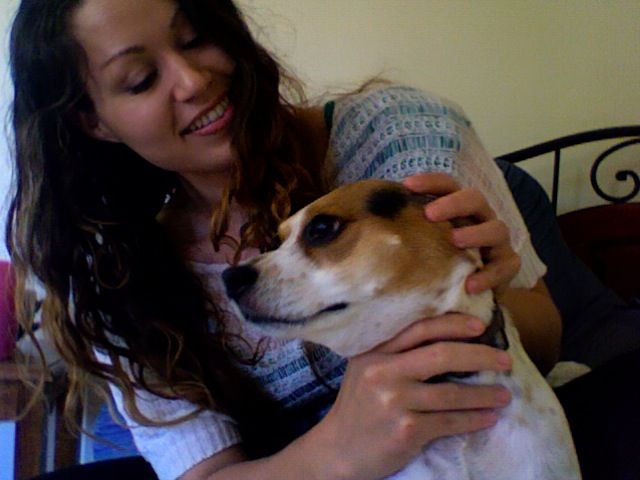 I always look like I'm choking her. She's a spaz and won't sit still for the camera! D'oh!
Alright, nighty night. Got work tomorrow and, per usual, I'm SO busy! (had to say that for all those who read The Busy Trap
Anyone got any tips or advice as to how to fuel optimally for strength gains? I've been reading a few vegan cross-fit blogs and checkin' out vegan athletes' meal plans for ideas, but would love more real-life input.
<3,
The Cranky One
Tags: cross fit, daniel craig, power lifting, vegan meal plan, vegan protein