Hey guys!
It's no secret that I am obsessed with Daiya cheese and specifically obsessed with making quesadillas with it. When I found out that Trader Joe's was coming out with their own version of vegan cheese, I was stoked because I have to travel to Whole Foods for Daiya when TJ's is closer (and also my predominant grocery store). While Daiya has three flavors on the market (mozzarella style, cheddar style & pepper jack style – "style" being the indicator that it's not really cheese, but, rather, cheese-like), Trader Joe's has thus far only come out with a mozzarella-style flavor.
I wanted to do an apples-to-apples comparison, so I bought a mozzarella-style version of both brands and decided to rate on the following characteristics:
Meltability
Stretchability
Taste
Ingredients
Here's how they compare aesthetically, which is not one of the factors I'm rating: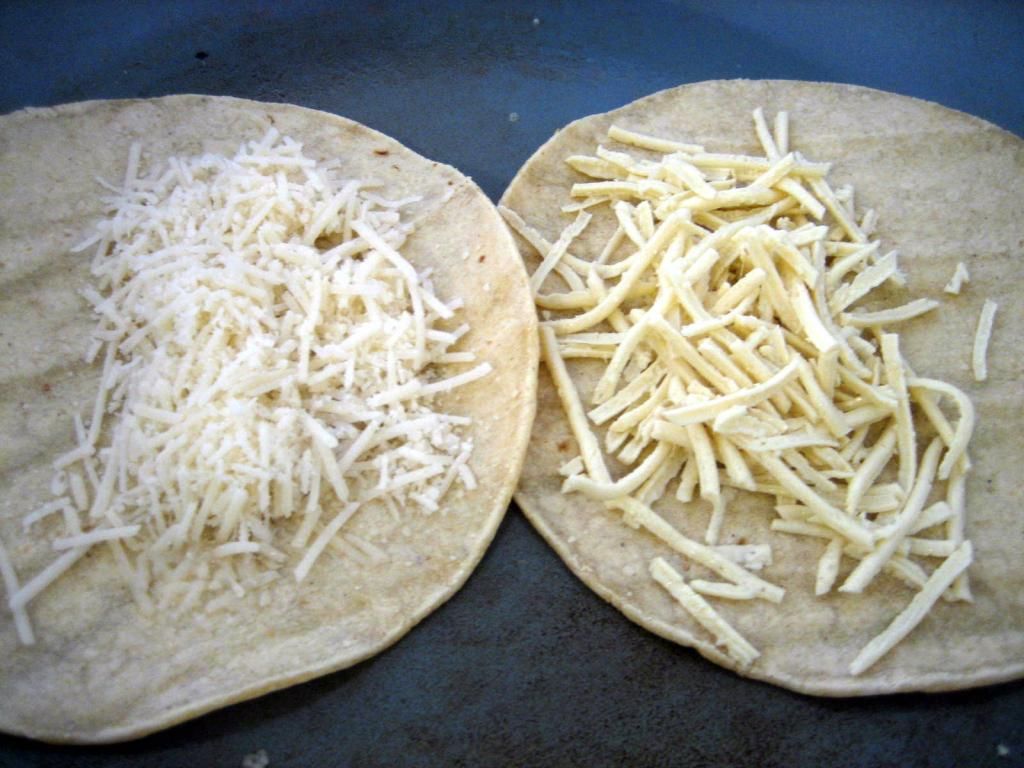 Trader Joe's mozzarella style shreds (L) versus Daiya's mozzarella style shreds (R)

Trader Joe's meltability is a 10. It freaking melts and it melts more quickly than Daiya.

Trader Joe's stretchability is a 5. It stretches, but it stretches in a clumpy gross way and once it gets on your fingers it's like glue.
Clearly, I am not a food critic lol.

Daiya's meltability is a 7. It melts, but slower than TJ's version and it requires a little "help" (i.e. I flatten it so the oil seeps out and creates the melt factor.
Daiya's stretchability is an 8. It stretches and how delicious does it look?

Now, the factors that really matter cannot be photographed (well, I guess I could photograph my facial expressions to the taste, but, alas, just imagine).
Taste:
Trader Joe's mozzarella-style vegan cheese comes out the package much like Parmesan cheese. It has a chalky, stale texture. What's worse? …. It tastes like Parmesan cheese mixed with mayonnaise mixed with foot. It is atrocious. I couldn't finish the quesadilla because I was too busy gagging. This why my whole rating system is bogus anyway because once you taste the cheese, the meltability & strechability factor only reminds you that it "melts" because it looks and tastes like mayo. Blegh! Taste = 0.
Daiya's mozzarella-style vegan cheese comes out the bag a bit greasy. It's the oil, after all, that makes it melty and stretchy. When eaten, however, it tastes like heaven. It has this mellow, genuine mozzarella flavor, that is divine. I could eat it all day. I could even eat it straight from the bag. Taste = 10!
Ingredients for Daiya mozzarella-style:
Filtered water, tapioca and/or arrowroot flours, non-GMO expeller pressed canola and /or non-GMO expeller pressed safflower oil, coconut oil, pea protein, salt, vegan natural flavors, inactive yeast, vegetable glycerin, xanthan gum, citric acid (for flavor), titanium dioxide (a naturally occurring mineral).
Nutrition facts for Daiya mozzarella-style:
Serving size 1 oz (28g/about 1/4 cup): 90 calories, 6g fat, 2g sat fat, 280mg sodium, 7g carbs, 1g fiber, 0g sugars, 1g protein
Ingredients for TJ's mozzarella-style:
water, canola oil, cornstarch, vegetable glycerin, arrowroot starch, tricalcium phosphate, pea protein, salt, natural vegan flavors, rice maltodextrin, lactic acid (non-dairy), sunflower lecithin, xanthan gum, annatto (color), powdered cellulose (to prevent caking)
Nutrition facts for TJ's mozzarella-style:
Serving size 1 oz (28g/about 1/4 cup): 90 calories, 6g fat, 0g sat fat, 201mg sodium, 7g carbs, 0g fiber, 0g sugars, 1g protein
So, you can see the "cheeses" are very similar in nutrition profiles with Daiya having more sat. fat and sodium than TJ's, though boasting 1g fiber per serving whereas TJ's has none. I'd say I'm satisfied equally with these nutrition profiles.
All in all? Daiya for the win. TJ's, sorry, but I almost-literally vomit when I think of your vegan cheese.
I used Daiya this weekend when I cooked for my mom's birthday party, which my boyfriend and I hosted.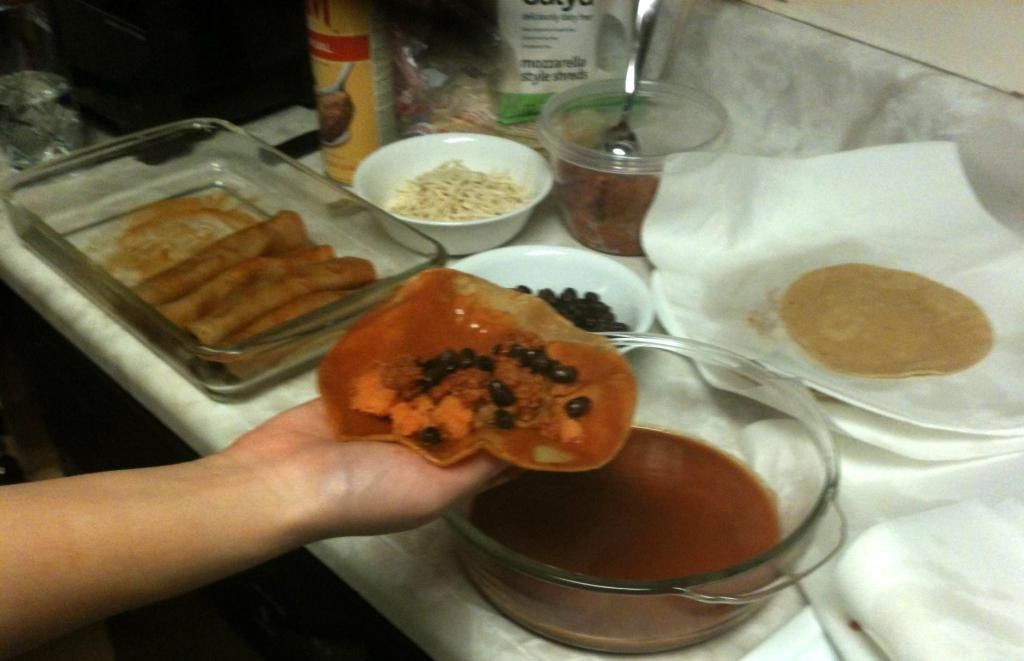 I made three types of enchiladas though all had a sweet potato base. The variations were add black beans, vegan chorizo & Daiya. Pictured is a version with black beans, sweet potato, & vegan chorizo. The enchilada sauce is the pre-made kind from Trader Joe's which is vegan (though not gluten-free).
Get in mah belly!
Ok, spill, have you tried either cheese? What are your thoughts?
<3,
The Cranky One
Tags: daiya vegan cheese, trader joe's vegan cheese. trader joe's