Hey guys!
I saw the following explanation of Lisa Ling's newest "Our America" segment on the OWN Network and couldn't help but scoff and then feel remorse. Has Oprah herself not learned to stop hating her body and believing that shaming it is the answer? Has she not seen the light of evidence-based research? It's just so frustrating because she does so much good to empower others to be authentic, but when it comes to weight – she is still in Plato's metaphoric cave of false reality. Anyhow, I did not watch the segment, but I imagine we can gather quite a bit of information just from the segment description below, which I will deconstruct, and the video I watched on the Huff Po, also linked below.
Via OWN's Facebook page:
"'1 in 3 American children is overweight: 1 in 6 is obese' from Lisa Ling. Tonight's episode of OUR AMERICA, 'Generation XXL' is a super powerful one. We take on the childhood obesity epidemic in a way that I've never seen before on television. First off, 1 in 3 children in America is overweight; 1 in 6 is obese. An obese child is nearly 80% more likely to become an obese adult than a child that is not obese.
There are so many factors that lead to a child becoming obese. In many parts of the country, parents just don't have access to sufficient information about how to lead healthy lifestyles. Couple that with the fact that kids have become far less active than ever before due to cuts in physical education and the unfettered addiction to technology in the form of mobile devices and video games. Parents are working more than ever before and unable to monitor what kids are eating at home. Schools are selling astronomical amounts of junk food in order to supplement shrinking budgets. It's a ticking time bomb and America's children are exploding. It's estimated that this generation of the young people will be the first ever to have shorter lifespans than their parents.
It is said that the way to prevent obesity not to allow kids to become overweight in the first place. But it takes a multi-pronged approach that has to start with parents. Kids are just too young to understand the consequences of obesity. Very often overweight children have parents who are struggling with weight issues. In this episode of OUR AMERICA, we spend time with a group of overweight parents who are banding together and making losing weight and getting healthy a collaborative thing. They are working to save their lives as well as the lives of their children. I hope people find inspiration from them. The idea of losing weight can be hugely daunting, especially if one tries to do it alone. But as I learned from my experience with an extraordinary group of people in West Virginia, whom we feature in the show, being part of a community and holding each accountable can make a tremendous difference. It can even, as surprising as it sounds, be fun."
Let's deconstruct some of this, shall we? Clearly, I want to deconstruct the whole thing, but, unfortunately, writing analytical pieces is not how I pay my bills (how I miss grad school!).
1 in 3 American children is overweight: 1 in 6 is obese
The terms "overweight" and "obese" are based on BMI, which is a height-to-weight ratio. The Polish inventor of BMI, back in 1850, never intended it to be a measure of health or to be used by public health officials or doctors. But the entirety of our "obesity crisis" hinges on this measurement, which again is a measurement of weight-to-height ratio, not of health. And, we assume that "overweight" and "obese" somehow equate to something "bad" (both in a moral sense and health-risk sense), but the truth is not necessarily. We take the terms overweight and obesity for granted by assuming that those very categories mean a host of things other than again, a simple ratio.
A clear indication that this episode focuses on size not health. I am so sick of these marketing ploys because I think the writers are trying to be edgy and fun, but it just continues to perpetuate the conflation of weight and health.
It's a ticking time bomb and America's children are exploding.
Same as above. Not funny; dumb.
It's estimated that this generation of the young people will be the first ever to have shorter lifespans than their parents.
I can't put this any better than ASDAH can, so I am going to quote them from this awesome resource used to debate HBO's dumb-ass documentary "Weight of the Nation." "This claim was first made—without any evidence to back it up—by some researchers who later admitted it was based on 'back of the envelope' figures and that they 'never meant for them to be portrayed as precise.' It's been repeated so often, that few question its source any more. The truth is that people living in industrialized democracies are living longer than their parents and grandparents, with no evidence of a reversal of that trend. In fact, the 'overweight' category of BMI is statistically the longest-lived, and there is evidence that 'overweight' may be protective among older adults. Moreover, even if there were a demonstrable link between BMI and longevity, the general trends toward a
rise in the average BMI has leveled off in the past decade." In other words: NOT TRUE!
It is said that the way to prevent obesity not to allow kids to become overweight.
This has got to be one of the most fucked up things I've ever read (and I, unfortunately, read a lot of fucked up things). You can't prevent a kid from becoming overweight or obese unless you try to manipulate his/her height (which is nearly impossible) or try to manipulate his/her weight, which is possible, but with severe and dire consequences. Many kids hit the overweight and obese lines as they hit growth spurts and as their bodies change with hormones and the stressors of coming into their bodies. Can you imagine how horrible it would be for a growing kid to be told he or she has landed on this ominous place on the BMI chart and now has to try to fix himself? There is a reason eating disorders rise exponentially in tandem with our exponential rise in weight policing and stigma. If a parent believes her kid's weight to be a symptom of unhealthful habits then the habits should be addressed, not the weight!
Kids are just too young to understand the consequences of obesity.
No, no this untrue. Kids 100% understand the consequences of obesity. The consequences of obesity include:
shaming from parents, teachers, governmental institutions, doctors and trusted family and friends
bullying from peers
hyperfocus on what one eats, drinks, and does activity-wise
body snarking
general feelings of shame, inadequacy
everyone believes your problems, shortcomings are attributable to your girth
you lack proper healthcare because your doctor thinks your stubbed toe, and everything else, is a result of your weight
did I miss anything?
How can any kid thrive or be healthy when he or she lives in the above reality?
What is most frightening to me is how we sweep facts under the rug in favor of what is popular. For instance, how often do acknowledge that unmeasured factors such as "poor nutrition, sedentary lifestyle, poverty and weight-based stigma may be the root cause of both higher BMI and of higher mortality and/or morbidity" (via Dr. Abigail Saguy)? Instead, we blame everything on the obesity CRISIS & epidemic, not realizing that obesity is neither a crisis nor epidemic (however, whenever those terms are used, it is easy for PR/ad campaigns to sell us on a disorder so that we buy a cure or forever toil for one).
In the clip linked here via the HuffPo, we meet Virgina (mom) + Ramsey (daughter).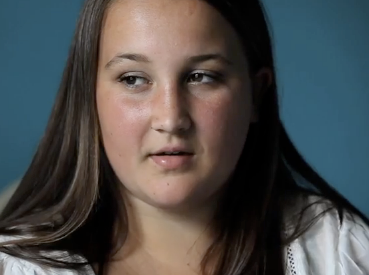 Ramsey, adorable

Ramsey, apparently, has always been "bigger," but it was after her parents' divorce that she gained enough weight to make her doctor point it out and her blood pressure was found to be high. So what does mom do? She tries to cook healthfully and she works out with her daughter and a personal trainer. It does sound rather harmless and I applaud Virginia for seeming like an ally, but the question I have is: could the rise in Ramsey's blood pressure be tied to stress from her parents' divorce? Shouldn't her mom be just as concerned to seek counseling for daughter on how to cope with divorce as she is to find her daughter a personal trainer? At one point Virginia says, "it's not about weight, it's about being healthy" and I want to believe her. I'll be curious to see how they're measuring Ramsey's "success." I hope it's by measuring her happiness and a lowered blood pressure and not by whether her BMI decreases.
Did anyone catch this segment? Any thoughts on the above? What would you do if a doctor told you your child was "overweight" or "obese"?

<3,
The Cranky One
Tags: ASDAH, Lisa Ling, obesity politics, weight of the nation