Hey guys!
Yesterday, Slate.com ran a piece in its advice column – now shown in animated video format – called "Dear Prudence." A reader writes in about her daughter's friend who eats differently than she and her daughter do [read here]. Unfortunately, instead of acknowledging that all children eat differently and that children, and adults, come in all different shapes and sizes (and that children, especially, go through growth spurts), Prudence sounds the death-fatty-obesity-alarm and actually advises the mother to intervene on this girl's behalf.
Perhaps even more insulting, but not really, is the animated video content which depicts the little girl as a pig, literally, and her parents, at one point, as two pigs in buckets of lard.
See below:


Screen shot, above, of the animated pig daughter and Slate's apology to its "offended" viewers.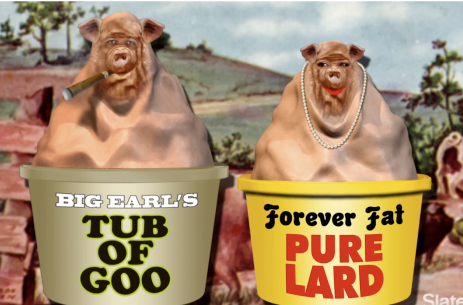 Screen shot of the "parents" of the child who likes to eat.
I have transcribed the video below:
Prudence: "Hello, I'm Prudence, today's letter is about a girl with an endless appetite."
Voiced-over Letter:
"Dear Prudence, the other day I needed to grab lunch on the run for my first-grade daughter and her friend. We pulled into a fast-food place where my daughter ordered a kid's burger and fries. Her friend requested the 20-count chicken nugget meal; I said 'no,' so she ordered a kid's meal, but wasn't happy about it. At dinner, she ordered from the children's menu. When the waiter brought an enormous plate of food, enough for two adults, the child scarfed it down and then complained that she was still hungry and wanted another meal. Her parents allow her to eat this way.
I've tried gently starting a conversation with her mom, but she shut me down. She says that she wants her kids to focus on who they are inside, not what they look like. Her daughter is chubby now, but quickly eating her way toward obesity just like her parents and siblings.
I don't want to be the food police, but when this child is with me, should I allow her to eat what she eats at home? Signed, Carrots & Celery"
Prudence:
"Unfortunately, what's going to be going on inside this little girl eventually is going to be broken down joints, a failing pancreas and clogged arteries. How sad that parents who are struggling with their own obesity wouldn't do everything in their power to prevent their children from experiencing it. Instead, they seem to feel the more of them, the merrier. I think it's totally fine for you to model proper eating and portion size. But, please, if you do so, skip the fast food restaurants and invite this girl over for dinner at the dining room table and a home-cooked meal.
And, given that the parents seem committed to supersizing her, I think it would be fair for you to contact this girl's pediatrician. You can send an anonymous letter and describe the compulsive eating. It might be helpful for an adult with authority to intervene."
There are so many things about the advice that Prudence gives that I don't even know where to begin, so, I guess I'll begin with the fact that Prudence has proven herself to be unfit to dole out advice because she clearly makes dangerous assumptions without giving out the proper disclaimers.
Here is what we know from what the concerned mom tells us:
the child in question is perceived, by the mother of her friend, to eat differently than her friend and friend's mother; and perhaps to eat more than she should (but we don't know compared to what; is the mom-observer qualified to make these statements? We do not have any reason to believe so!)
the mother feeds her daughter and the-girl-in-question fast-food
the mother feeds her daughter and the-girl-in-question food from a restaurant
the girl's real mother seems to have sound judgment because she wants her children to focus on their character rather than their size (I wish more parents/people were like this!)
Here is what we don't know:
the weight & height of the child in question in order to calculate BMI, which is the way public health officials measure obesity; the health status of the child; the athleticism of the child; the diet of the child (except for her request for a 20-piece chicken nuggets, supposedly)
the weight & height of the parents of the child in question in order to calculate BMI, which is the way public health officials measure obesity; the health status of the parents; the athleticism of the parents; the diet of the parents
whether the girl in question has ever actually had a 20-piece chicken nugget meal
 Other angles to consider:
the restaurant, which served the child in question a dish from the kid's menu, may have too-large portion sizes if the mother-observer believes the child to have eaten too much. Since the mother cannot put herself into the child's stomach to know whether she is truly full, there is really no way for her to know that the child has eaten "too" much.
Where does Prudence get it wrong?
she assumes based on the mother's story that the girl in question is unhealthy and set up for a life of health problems. Prudence clearly does not know that "obesity" is a medical term and not one to be assigned to people who simply do not fit the mold of thinness she deems healthy or normal.
even if we were to confirm that, yes, based on BMI, the parents of the girl and the child herself are obese by BMI standards, we still would not have any evidence of their overall state of health. And, even if we knew that they were in poor health, we would not know whether their size was correlated to their health status!
getting a pediatrician involved is a horrible idea. I think this "concerned" mom should mind her own business. Unless she has proof that the child's health is compromised, she should back off and simply model healthful behaviors.
she speaks from a perspective that reeks of paternalism & sizeism
she assumes a home-cooked meal from this mother would somehow be superior to a fast-food meal (maybe, maybe not). Who is to say this child does not eat home-cooked meals daily from her parents? All we know for sure is that her fast-food meal in question was bought by the mom who is now ready to report the girl's parents to authorities
we have no idea what constitutes "compulsive eating" – unless Prudence specializes in eating disorders, she is not qualified to diagnose that and she certainly could not diagnose this based on hearsay!
Dear Prudence, your advice sounds a lot like bigotry.
<3,
The Cranky One
Tags: obesity politics, slate