Hey guys!
I hope you're having a wonderful weekend! On Friday and Saturday, my boyfriend and I went to Natural Products Expo West to explore what's new and exciting in the natural products industry. My first time attending was last year and it was a wonderful experience because I ran into fellow bloggers while also getting to meet the people behind some of my favorite brands (and find new brands I had never heard of!).
Since I visit the Expo with two different lenses – one personal (i.e. finding vegan products for myself that I'd share here with you) and the other professional (I am the PR person for a nutrition company and we're always scouting for the best healthful snacks), I really have to take a lot of time scoping everything out. This year, I decided to ask my boyfriend to tag along as my photographer and as my helper since my back is still healing and it's hard for me walk long periods, let alone hold bags filled with swag. He was a great help and it was a huge surprise when, yesterday, on our 6th anniversary, he offered to go to the Expo with me again since on Friday we had to cut our time short due to my first physical therapy appointment (more on that later). Anyhow!
Friday morning began with a press briefing and breakfast sponsored by Lyfe Kitchen. Lyfe kitchen is a restaurant franchise that focuses on sustainable, healthful whole foods (they have locations in Culver City & Palo, Alto, CA). They also have a frozen line available in grocery stores.
The morning's speakers were:
Carlotta Mast, Senior Director of Content & Insights, New Hope Natural Media
Alan Greene MD FAAP, Founder DrGreene.com, Author Feeding Baby Green, Practicing Pediatrician
Janet Evans, Four-Time Olympic Gold Medalist and Mother of Two (and Ambassador for Lyfe Kitchen)
Stephen Sidwell , President & CEO of Lyfe Kitchen, Grocery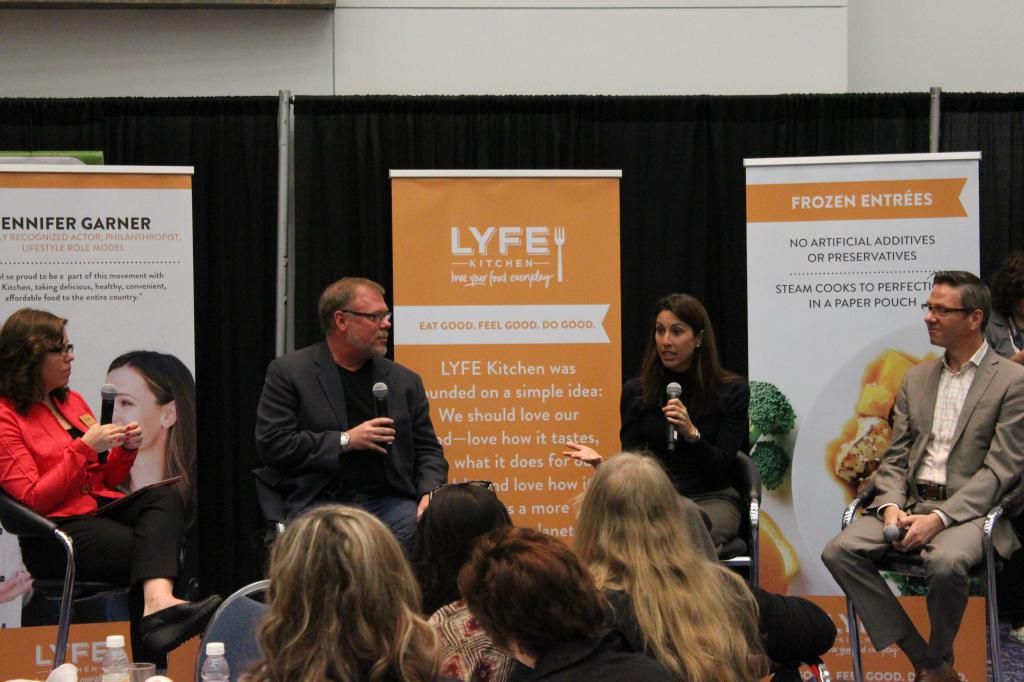 I thought I was recording the entire discussion, but, lo and behold, my recording device recorded silence. Honestly, this is just as well because the discussion sounded like nothing but an infomercial for Lyfe Kitchen, which is to be expected at any sponsored event, I suppose. The three biggest take-aways, for me, came from the only person not fluffing up Lyfe Kitchen – Dr. Greene. Here they are:
Due to a new study on food allergies, pediatricians and other health professionals may be advising parents to introduce highly allergenic foods, such as peanut butter, fish and eggs, at an earlier age: between 4 and 6 months. The Wall Street Journal's coverage of the report is here. It's interesting because the study puts forth that introducing allergenic foods earlier may actually play a role in preventing food allergies from developing.
Consumers are no longer looking for "take away" diets (i.e. diets that forbid entire food groups), but rather for diets focusing on whole foods and "adding" (i.e. add more fruits and vegetables). He mentioned intermittent fasting would be a big thing this year thanks to its popularity in Europe.
GMO labeling and labeling in general are going to be big discussion topics this year and this is certainly timely as Whole Foods just announced that they are setting a 5-year deadline for labeling all of their GMO products.
A highlight of the Q&A session was when Leah Segedie (the mama maven behind Mamavation) boldly, though in a voice as sweet as can be, asked Stephen Sidwell if she had just ingested any GMOs from eating their breakfast. Awkward
Stephen handed the answer off to his chef who in a round about way said possibly. They are moving toward non-GMO practices, but it's incredibly difficult. In my own research on the topic, it seems nearly impossible to source non-GMO ingredients, especially soy, corn, salmon and tomatoes.
On to the fun stuff!
Here are some of the coolest brands and new developments I spotted at the Expo. You'll see of my old faves as well as some new ones:
One of the few gluten-free meat analogues on the market and this one really is the best in terms of mimicking meat texture and taste. This may actually be hard for some vegans to swallow (pun!). I tried this is an a curry "chicken" salad that was flippin' scrumptious. Starting next month, Beyond Meat's new "chicken-free strips" can be found in retail stores across teh nation. The varieties include: Grilled Chicken-Free Strips: "The taste of mesquite chicken with a hint of molasses," Southwest Style Chicken-Free Strips: "Grilled with a traditional chipotle-lime blend," and Lightly Seasoned Chicken-Free Strips: "Cooked with the savory spices of roasted chicken can be found in rest." I think it's awesome that vegans can find refrigerated not-chicken that's ready to be used in salads or however else one might use chicken. A great find for veg-head families!
Raw, vegan, organic, gluten-free, kosher & non-GMO kale chips & onion rings. I love the raw onion rings – what a concept!
You guys know I love Daiya. They've just launched a pizza line! It's the first ever dairy-free, gluten-free, soy-free pizza! I tried the Margherita pizza and adored it.
Daiya's new cream-cheese-style spreads are

coming out in April.

The flavors are chive & onion, strawberry, and plain. I tried the strawberry and plain versions. The strawberry is dangerously delicious! I think I would slather it on everything or simply scoop it into my mouth straight from the tub. I'm so sexy. VegNews Magazine named the Chive & Onion version their best at ExpoWest award. Way to go, Daiya!
Cookies that are gluten free, vegan, w/o peanuts or tree nuts, made in a dedicated bakery, & made without GMO ingredients? Sign me up! These are all scrumptious. The new brownie cakes (only been on the market for 5 months) are the only shelf-stable gluten-free brownie on the market. Lucy's debuted their new Pumpkin Patch and Maple Crunch cookie flavors at the Expo — both delicious. They will be on the market this fall.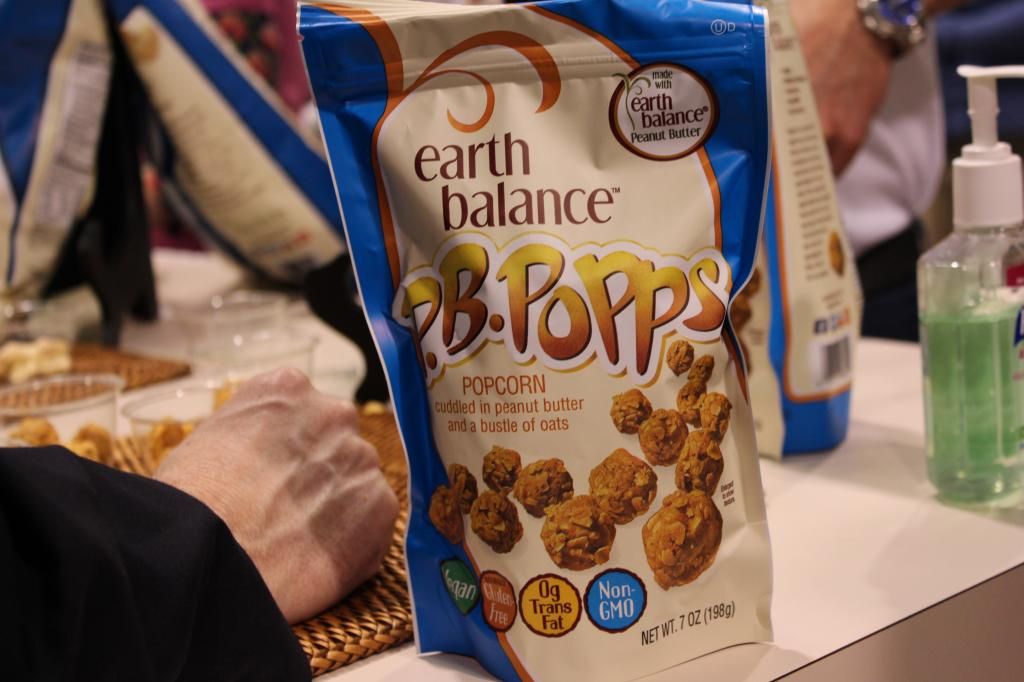 Earth's Balance is really expanding out of their vegan butter line and into the chips and snacks category. Check out the above P.B. Popps. They've also came out with their Aged White Cheddar Flavor Puffs that taste exactly like I imagine a vegan version of Pirate's Booty to taste. I'm sure kids will love this stuff. I like that they're gluten- and GMO-free!
Fabe's
I have been in love with Fabe's products since last year. They have vegan and gluten-free cookies, brownies and pies (not all are vegan and not all are GF). My faves are the chocolate peanut butter cookies and GF fudge brownies. You can find most of their stuff at Whole Foods.
Farm House Culture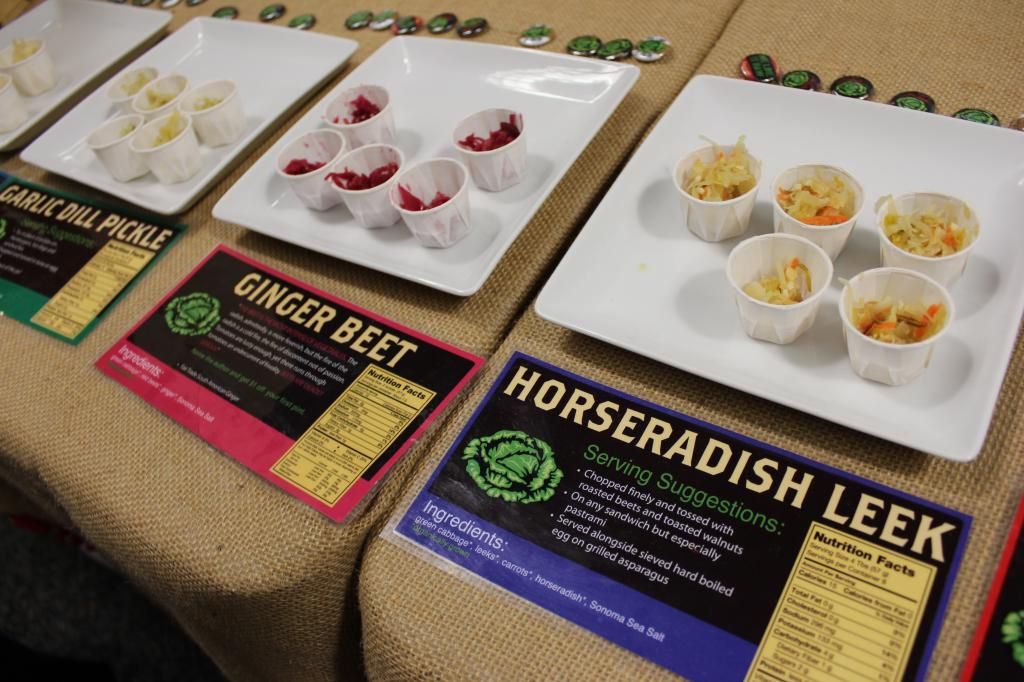 If you're looking for vegan kimchi or sauerkraut, Farm House Culture is your best bet. Sold in refrigerated sections of Whole Foods.
I love Hail Merry's tarts so much I've taken suggestive pictures with them Whole Foods will soon be carrying their two new flavors of macaroons — Strawberry and Caramel Sea Salt. And the cool news with them is that all of their products are certified by the Non-GMO Project. I love that every ingredient in their products is the best possible. They use ingredients that I would be proud to use in my own kitchen and to serve loved ones. That says a lot!
I recently found Hilary's Eat Well products at my local Whole Foods when I was looking for a vegan and gluten-free veggie burger. I tried the Green Chili & Cumin Adzuki Bean Burger and loved it crumbled in my salad. It was great to see their full line of products and to learn that they have 2 products that will be in markets in April: their Hemp & Greens Burger and their Original Veggie Bites. Both are made with a foundation of organic millet (though the bites has quinoa too).
Larabar just introduced its line of protein bars and they should be in all retailers by June. The flavors are: Cinnamon Apple Crisp, Lemon Pound Cake, Peanut Butter Cookie and Pumpkin Pie. Most vegan protein bars get their protein from soy protein isolate; these bars get it from pea protein. The same purity you'll find in Larabars typical bars can be found here too. The peanut butter flavor, for example, has just 6 ingredients and it's the best tasting of the group. These protein bars are a bit drier than the typical Larabar fruit & nut bar line, but good enough tasting for packing a nice protein punch without questionable additives.
Lightlife makes lots of vegetarian and vegan products, including some of my faves like Tempeh "bacon" (officially called Organic Smoky Tempeh Strips) and Smart Dogs. They have a new line of Chik'n Nuggets out in markets now.
I first heard of Love Grown Foods' granola from Ashley's blog, The Edible Perspective. I was so excited to run into Maddy, the founder, at the Expo and to hear all about their new line of oatmeal cups! They use GF-certified oats and all vegan & GF ingredients. They'll be available in Whole Foods next month. I can't wait to try these!
Matt's Munchies makes vegan, gluten-free fruit snack thingies that are amazeballs because they only have fruit in them — only! Plus, I love the way they're shaped. They're in these thin little peel-able squares. Island Mango is my favorite flavor because it has little bits of real coconut in it. This is the perfect on-the-go snack.
Missy J's has a caffeine-free vegan chocolate line that is delicious. This is a great option for those of us who love dark chocolate but don't want the caffeine.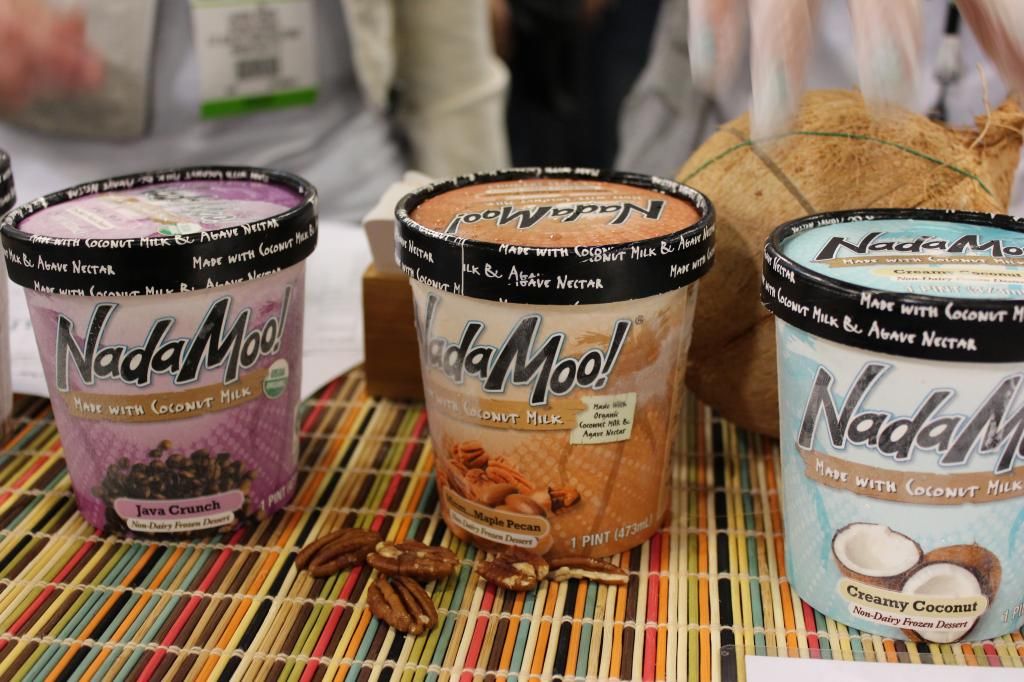 Organic, gluten-free & vegan coconut-milk-based ice cream. Get in mah belly!
Organic, vegan, no refined sugars, gluten- and GMO-free dark chocolate bars and drink mixes. I love the drink mix (and you can make a nice little vodka chocolate drink if you're so inclined . If you're in So CA, you can find their products at Mother's Markets and online.
Finally, breathmints and throat drops that are vegan, gluten-free and without weird artificial colors! I love everything about the ingredients this company uses in their candies and mints. Plus, they donate to preserve the medicinal plant knowledge of indigenous cultures around the world, by donating 10% of profits the EthnoMedicine Preservation Project®. For your reference, the ingredients in their peppermints are: Organic molasses granules, organic evaporated cane juice, organic peppermint essential oil. Contains no artificial coloring, flavoring, or animal by-products. GMO-free, Wheat-free, Gluten-free, Nut-free, Dairy-free, Soy-free, Corn-free, Casein-free.
Tofurky
Tofurky is launching their new line of "pockets." I tried the peperoni version and thought it was okay. These are not gluten-free. A great option if you're hosting skeptical vegans and want to give them something that's recognizable and "safe."
Vega One makes one of my fave vegan protein shakes and now they're making energy and protein bars. Their new "Vega One Bars" are gluten-free, vegan and boast 15g protein, 1.5g of Omega-3, 6g fiber, 1 billion dairy-free probiotics and 1 serving of greens. I tried the cherry flavor. I didn't think it tasted very good, but, I would still purchase it if I wanted a protein bar (I'll always choose health benefits over taste – to a degree). Note: my boyfriend, who is more picky than me, loved the cherry Vega bar and said it tasted very "marshmallowey." If he liked it, I think the average consumer would love it!
They make a vegan alfredo sauce that is sinfully delicious. It's made with cashew cream & spices and should be slathered onto everything.
The main trends I saw at Expo West:
Non-GMO Project certifications are sprouting up on nearly everything. So, while the label GMO movement may have failed here in CA with Prop 37, I suspect things will change in the coming year.
Gluten-free is still a huge trend
Most product lines have a vegan and gluten-free option (this certainly wasn't the case before)
Kale & chia continue to be huge
There are more "veggie chips" than I can count (usually just potato flour or starch with some added dehydrated vegetables, which add questionable value to a product that is otherwise just salt + flour).
Overall, it's exciting for me to see the preponderance of vegan items making their way to the market!
Any of you out there attended ExpoWest? Whatdya think? Otherwise, what are your new fave products on the market?
<3,
The Cranky One
Tags: beyond meat, brad's raw chips, daiya, dr lucys, earth's balance, fabes, farm house culture, GMO, hail merry, Larabar, lightlife, love grown, matt's munchies, missy j's, nadamoo, natural products expo west, st claire organics, tofurky, vega, victoria's vegan, Whole Foods